Palo Alto, California-based Ausra has secured more than $40m in funding from Silicon Valley venture capital firms Khosla Ventures and Kleiner, Perkins, Caufield & Byers (KPCB) to help it to further its ambitions to develop large-scale solar thermal power plants.
Ausra power plants focus sunlight on concentrators that boil water, generating high-pressure steam that then drives conventional turbine generators. Low-cost thermal energy storage systems, now under development by the company, will allow the systems to generate power on demand, day and night.
Ausra's core technology, the Compact Linear Fresnel Reflector (CLFR) solar steam generation system, was originally conceived in the early 1990s by founder David Mills while at Sydney University. Mills later worked with Graham Morrison to develop the idea between 1995 and 2001.
In 2002, Mills and Morrison founded Solar Heat and Power (SHP) in partnership with Ausra CEO Peter Le Lièvre, and SHP built a successful trial 1MW system in 2004 for Macquarie Generation in New South Wales. A following 38MW CLFR solar field is expected to be completed by 2009.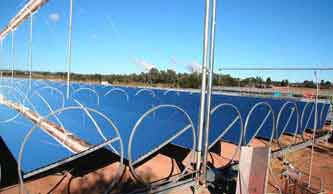 It was Ausra executive vice-president John O'Donnell who brought the founders and investors together in October 2006. Ausra was then formed in late 2006 to take the technology to large-scale commercial deployment in the US and worldwide.