A mechanical device that has the potential to prevent blood clots after surgery will be tested on 20 patients undergoing orthopaedic surgery at The Prince Charles Hospital in Queensland, Australia.
The miniaturised Vascular Enhancement Device (VED) will be fitted to patients in the coming weeks who are confined to bed during their recovery period - a time when the risk of blood clots is high.
Queensland University of Technology Prof Ross Crawford, who is the director of the Prince Charles Hospital's Orthopaedics and also chairs QUT's Orthopaedic Research, said the device ensured blood was continually pumped from the patient's leg.
Believed to be a world first, the VED is an inflatable sleeve which is fitted to the patient's calf. It has multiple chambers which inflate and deflate in a wave like motion, increasing blood flow to the leg.
The Australian company Vascular Enhancement Technology has been developing the potentially life-saving apparatus for five years, with collaboration from Dr Greg Wren, instrument engineer Walter Meyer and Prof Crawford.
Vascular Enhancement Technology CEO and research scientist Wayne Bennett said the air pressure generated by the device created pressure and movement in the muscle similar to the normal effect created by walking.
'The continual intermittent pressure on the calf muscle and subsequent blood flow reduce the possibility that blood clots will form, Bennett said.
'The portable device can be both mains-powered or battery-operated which allows the patient to remain mobile while they recover from surgery. The VED will provide an effective, economical and comfortable alternative to larger, more cumbersome devices which significantly restrict patient mobility.'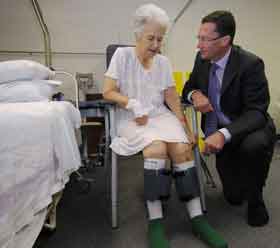 Prof Crawford said there was always a possibility blood clots might form in patients who were sedentary for long periods of time after complex surgery.
'Most clots stay in the leg, but can travel to other parts of the body such as the heart or brain which in some cases can be fatal,' he said.
Dr Wren said the device potentially had other clinical applications such as draining fluid from swollen limbs and assisting in the healing of venous ulcers.
'It may improve the quality of life for people with damaged veins, or who have restricted mobility such as nursing home residents or stroke patients. The device could also be used to prevent deep vein thrombosis caused by people who stay still for long periods during long distance travel or office-based work,' Dr Wren said.
Development and trialling of the device was jointly funded by Vascular Enhancement Technology and a Federal Government Aus-Industry Comet Grant.
The development team will publish a medical research paper after the initial trial and carry out further clinical trials to refine the device.