Developed by researchers at Siemens in Germany the motor,  which weighs just 50kg, delivers a continuous output of about 260kW – five times more than comparable drive systems.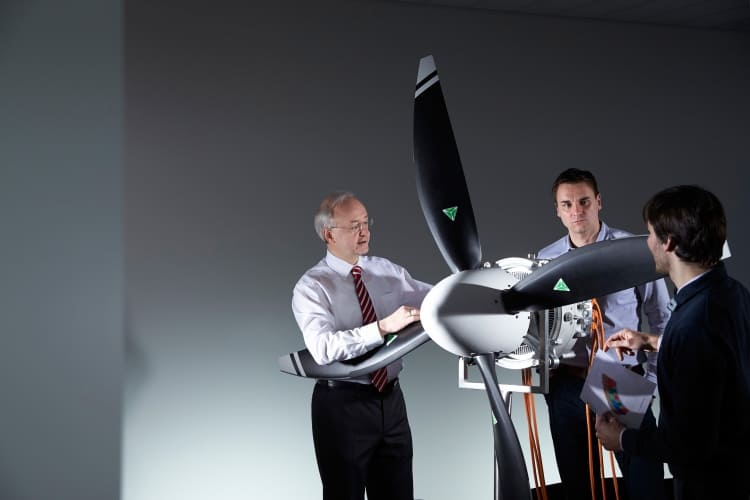 The team claims that the motor's power-to-weight ratio of 5kW per kilogram could enable larger aircraft with take-off weights of up to two tons to make use of electric drives for the first time.
Electric motors of comparable strength that are used in industrial applications typically deliver less than 1kW per kg, whilst the performance of drive systems used in electric vehicles is about 2kW per kg. Siemens claims that it achieved the improved performance by employing advanced simulation techniques and reducing the weight of every component of the system.
Because the motor delivers its performance at rotational speeds of just 2,500 revolutions per minute, it is able to drive propellers directly without the use of a transmission.
"This innovation will make it possible to build series hybrid-electric aircraft with four or more seats," said Frank Anton, head of eAircraft at Siemens Corporate Technology, the company's central research unit.
The motor is scheduled to begin flight-testing before the end of 2015. In the next step, the Siemens researchers will boost output further. "We're convinced that the use of hybrid-electric drives in regional airliners with 50 to 100 passengers is a real medium-term possibility," said Anton.
In 2013, Siemens, Airbus and Diamond Aircraft successfully flight-tested a series hybrid-electric drive in a DA36 E-Star 2 motor glider for the first time. The test aircraft had a power output of 60kW.
Siemens is not alone in pursuing the goal of electric flight.  As previously reported in The Engineer, Airbus has made big strides with electric propulsion technology. Its two-seater E-Fan aircraft performed its first public flight last year (2014) whilst the company has a longer-term stated vision to develop a 90-seater electric passenger plane. Meanwhile the Solar Impulse aircraft, which is currently attempting the world's first solar-powered round the world flight is also helping to generate interest in the concept.