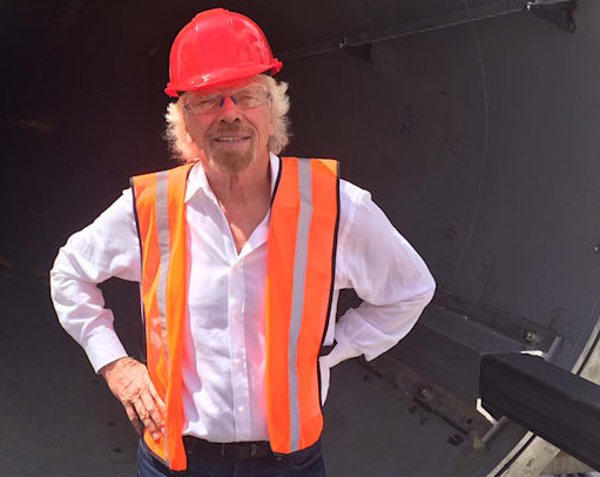 The rebranded Virgin Hyperloop One aims to move people and cargo in vehicles that travel in tubes at speeds of up to 670mph.
According to the company, Hyperloop vehicles will accelerate gradually via electric propulsion through a low-pressure tube. The vehicle then floats above the track using magnetic levitation and travels at high-speed over long distances due to ultra-low aerodynamic drag.
In a blog post on the Virgin Group website, Branson said: "We're incredibly excited about the technology behind Virgin Hyperloop One and the way it could transform passengers' lives.
"From our airlines to our trains to our spaceline, we have long been passionate about innovation in transport too, especially the development of technology that could transform people's lives. This is just the latest example. Importantly, Virgin Hyperloop One will be all-electric and the team is working on ensuring it is a responsible and sustainable form of transport too."
In July 2017 the company said it had successfully completed phase 1 tests of its technology at the company's DevLoop site outside Las Vegas. The vehicle reportedly coasted above the first portion of the track for 5.3 seconds and reached nearly 2Gs of acceleration while achieving the target speed of 70mph.
Hyperloop One XP-1, the company's first-generation pod, then completed phase 2 with a top speed of 192mph over a maximum distance of 436m
Phase 2 vs. Phase 1
Achieved 2.7x faster speed (192 mph vs. 69 mph)
Went 4.5x farther distance (437m vs. 96m)
10x longer propulsion segment (300m vs. 30m)
3.5x more power to the pod (3,151hp vs. 891hp)
As part of the deal, the Hyperloop One team will remain in control of all engineering and development, product and system design, business development, and strategy.
"Now we're adding the ability to tap into the strength of a company with 53 million customers, excellent management, and a track record for delighting customers in a multitude of industries, especially transportation," the company said.