Researchers at North Carolina State University are developing robotic bats to overcome the performance limitations of existing micro-aerial vehicles (MAVs).
MAVs have garnered a great deal of interest due to their potential applications where manoeuverability in tight spaces is necessary. Not in the least because, when coupled with miniature sensors, they can be used to detect biological, chemical and nuclear agents.
However, due to their size, devices using a traditional fixed-wing or rotary-wing design have low manoeuverability and aerodynamic efficiency.
Researcher Gheorghe Bunget, a doctoral student in mechanical engineering at NC State, and his adviser Dr Stefan Seelecke looked to nature for a solution and discovered that mimicking the functionality of the bat would provide the ideal one.
After an extensive analysis of the bats' skeletal and muscular systems, they developed a 'robo-bat' skeleton using rapid prototyping technologies. Their fully assembled skeleton rests easily in the hand and weighs less than six grams.
Now, the researchers are completing fabrication and assembly of the joints, muscular system and wing membrane for the robo-bat, which should allow it to fly with the same efficient flapping motion used by real bats.
Seelecke explained that the research team used a shape-memory metal alloy for the skeleton of the robotic bat and smart materials that respond to electric current for the muscular system.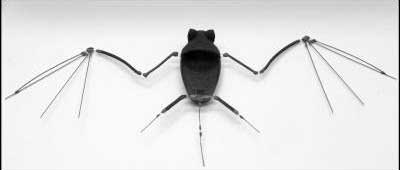 The skeleton of the robotic bat uses shape-memory metal alloy that is super-elastic for the joints, and smart materials that respond to electric current for the muscular system