A surgical team at Guy's and St Thomas' NHS Foundation Trust Hospital in London has performed the UK's first live kidney transplant operation using a robot.
Surgeons used a state-of-the-art robot called da Vinci to help remove a patient's kidney before transplanting it to her partner using conventional open surgery.
The robotic operation was performed by a team including surgeons Prokar Dasgupta and Nizam Mamode from Guy's and St Thomas' and Raja Kandaswamy from the University of Minnesota.
The da Vinci robot is one of only two in the UK. During the operation, it is directed by a surgeon at a special console to carry out minute movements inside the body through three tiny keyhole incisions.
The robot's small wristed instruments can move in all directions to allow surgeons to perform highly complex procedures. It also has a three dimensional camera which is placed inside the patient's abdomen, allowing surgeons to see exactly what the instruments are doing.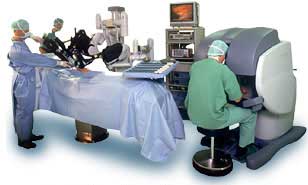 Mr Prokar Dasgupta, the consultant who leads on robotics at Guy's and St Thomas', says: "The first live robotic kidney transplant went really well and we are keen to do more. At such an early stage it is difficult to say what the long-term advantages of robotic transplants might be, but we are hopeful that the advantages will match the ones patients having other robotic operations have experienced.
"For example in robotic bladder and prostate operations we are finding that the increased flexibility and visibility the robot allows helps make the operation more precise and we can do more complicated surgery through the tiny keyhole incisions. So far, most of these patients have had much smaller scars and leave hospital earlier, getting back to normal daily activities more quickly."
The da Vinci robot, which is manufactured by Intuitive Surgical, was purchased thanks to a grant of over £1million from Guy's and St Thomas' Charity and is being used to perform a wide range of operations at Guy's and St Thomas'.