Solar cells of the future may look totally black to the human eye because they absorb light so efficiently. That is the promise of new research from an interdisciplinary team at the University of Virginia.
While current solar cells reflect about five to 10 per cent of the light energy that reaches their surface, the University of Virginia team are to use lasers to create tiny nanoscale surface textures that reduce energy loss to less than one per cent, over the entire solar spectrum and irrespective of the angle at which sunlight strikes the cell.
While increasing the ultimate efficiency of solar cells, the laser texturing process could also drive down manufacturing costs.
Because lasers are already used in the manufacturing of solar cells, the texturing process can be automated, eliminating the need for dangerous chemical treatments currently used to reduce reflectance.
Mool C Gupta, a professor of electrical and computer engineering, developed the laser texturing process at the university.
He said: 'The resulting texture of nanospikes is like the sand on sandpaper - the added hills and valleys greatly increase the surface area and reduce the reflection of light. However, the nanospikes are many times smaller than the sand of sandpaper, ranging in height from 10 to 100 millionths of a metre.'
The 30 per cent gain in light absorption from the nanospike surface may enable the creation of solar cells that are ultimately two to three per cent more efficient than current technology.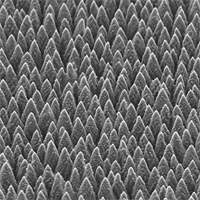 Laser textured silicon surfaces like this one developed at the University of Virginia could lead to more efficient solar cells
Gupta added: 'That may not sound like much, but in the solar industry a one per cent efficiency improvement is a big deal.'
Such incremental gains in efficiency and reduced manufacturing cost are helping drive the rapid growth of solar energy, a market that is currently growing about 40 per cent each year.