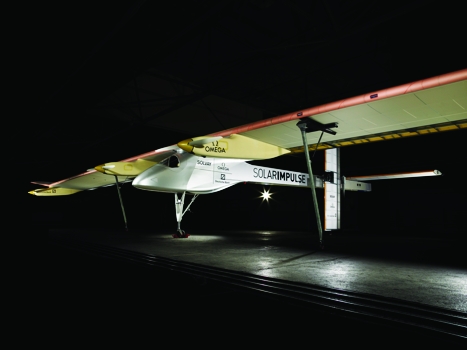 Pilot Bertrand Piccard took off at sunrise from the island of O'ahu, approximately 15.15 BST on April 21. His 4,000km journey will take him across the North Pacific Ocean to Mountain View in California, a flight that is expected to last about 62 hours. Piccard at this point has covered just over 25 per cent of the distance in what is the ninth leg of Solar Impulse 2's circumnavigation attempt. Updates on Piccard's progress, as well as a live feed from inside the cockpit, can be found here.
The aircraft, which is powered by 17,000 photovoltaic cells that cover its top surfaces, has been laid up in Hawaii undergoing repairs and testing for the past several months. During the marathon eight leg from Japan to Hawaii, the aircraft's batteries overheated. André Borschberg - who was the controls for that 117-hour flight - successfully completed the leg last July despite the problems.
Since then the team has carried out a number of repairs, including installing new batteries, as well as stabilisation and cooling systems. Before embarking on the second part of the Pacific crossing, more than a dozen test flights have been carried out around Hawaii to put these new components thorough their paces.
Weighing 2.3 tonnes, Solar Impulse 2 has a wingspan of 72m, which is wider than that of a Boeing 747. Its 4-metre long propellers produce an average speed of about 70km/h, making the Pacific legs of the journey particularly testing for the two pilots. Borschburg's 117-hour effort broke the record for the longest continuous solo flight, previously held by Steve Fosset.
Having taken off from Abu Dhabi last March, the Solar Impulse 2 team is now hoping to get to New York by the start of June, when preparations for the Atlantic crossing will then begin. All going well, the decade-long project should reach its goal when it returns to Abu Dhabi later in the year.