A researcher at SRI International has developed and demonstrated wall-climbing robots using an electrical adhesive technology called compliant electroadhesion.
Senior mechanical engineer Dr Harsha Prahlad said that it was the first time that electroadhesion - an electrically controllable adhesion technology - had been applied to a variety of wall-climbing robots.
The idea involves inducing electrostatic charges on a wall surface from a power supply connected to compliant pads placed on the moving robot.
Not only does the technology use a small amount of power, it allows the robots to repeatedly clamp to wall surfaces covered in dust or debris.
'Recent events such as natural disasters and public safety threats have led to an increased need for robust robots - especially ones that can move in three dimensions,' said Dr Prahlad. 'The ability to climb walls and other structures offers unique capabilities in military applications, such as urban reconnaissance and sensor deployment.'
Electroadhesive robots perform well on a wide variety of materials, including surfaces such as concrete, wood, steel, glass, drywall, and brick.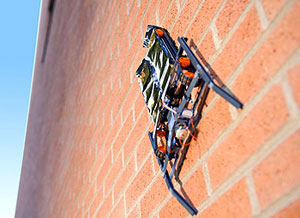 Electroadhesion lends itself to a variety of wall-climbing robots, including tracked 'tank' style wall-climbing robots, as well as more biomimetic-inspired, legged and inchworm-type robots, all of which have been successfully demonstrated using the technology.
To find out more about SRI's wall-climbing robots, go to www.sri.com/rd/electroadhesion.html.