According to the company, the Infinite-Build 3D Demonstrator and Robotic Composite 3D Demonstrator build on Stratasys' expertise in industrial fused deposition modelling (FDM) 3D printing to help manufacturers design and build parts with credible structural integrity but at a fraction of the time and cost.
Common to both the Infinite-Build 3D Demonstrator and Robotic Composite 3D Demonstrator is an approach to FDM extrusion that increases throughput and repeatability. Both use a worm drive filament extruder that winds filament through the print head to increase the sort of flow pressure required for composite extrusion.
The Infinite-Build 3D Demonstrator is designed to address the requirements of aerospace, automotive and other industries for large lightweight, thermoplastic parts with repeatable mechanical properties.
To do so, the traditional 3D printer concept has been turned on its side to realise an approach to building parts that prints on a vertical plane to produce parts that are measured in feet rather than inches.
According to Richard Garrity, president of Stratasys Americas, the system has utility across jigs and fixtures, tooling, and production parts. Garrity added that the system produces parts 10 times more quickly than other FDM technologies.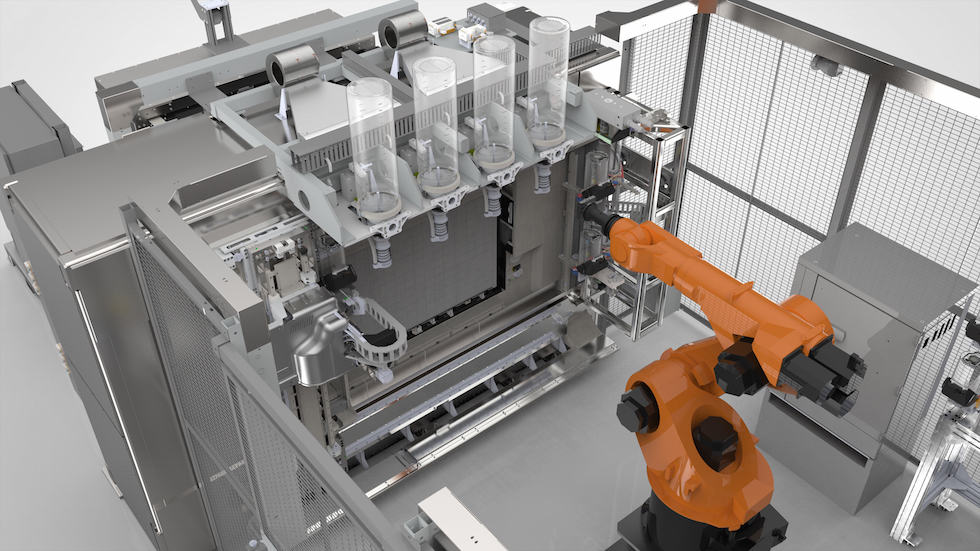 "When you can convert jigs and fixtures into a thermoplastic material you can produce them on demand, literally overnight," he said. "They are personalised, customised to a given worker or to a given process."
Boeing, which has approximately 30,000 AM parts installed in its commercial and defence platforms, helped define the requirements and specifications for the demonstrator and is currently using an Infinite-Build 3D Demonstrator to further explore the production of low volume, lightweight parts.
Ford Motor Company is also exploring automotive manufacturing applications for this demonstrator, and will evaluate this new technology.
Furthermore, Ford and Stratasys will work together to test and develop new applications for automotive-grade 3D printed materials that were not previously possible due to limited size.
Dr Ellen Lee, technical leader, additive manufacturing research, Ford Motor Company said: "What we've been doing in the past – prototyping, design verification, and looking at quick iterations for designs – has helped us to be more efficient and reduce our cycle times. Now, we're looking at more functional applications. The reason why is because additive manufacturing gives…design freedoms that allow us to [further] reduce our cycle times.
"Some tools can take months to make. Now, if we can reduce that to days for a printed tool we can start look at reducing or eliminating the time associated with making prototype tooling and eventually production tooling."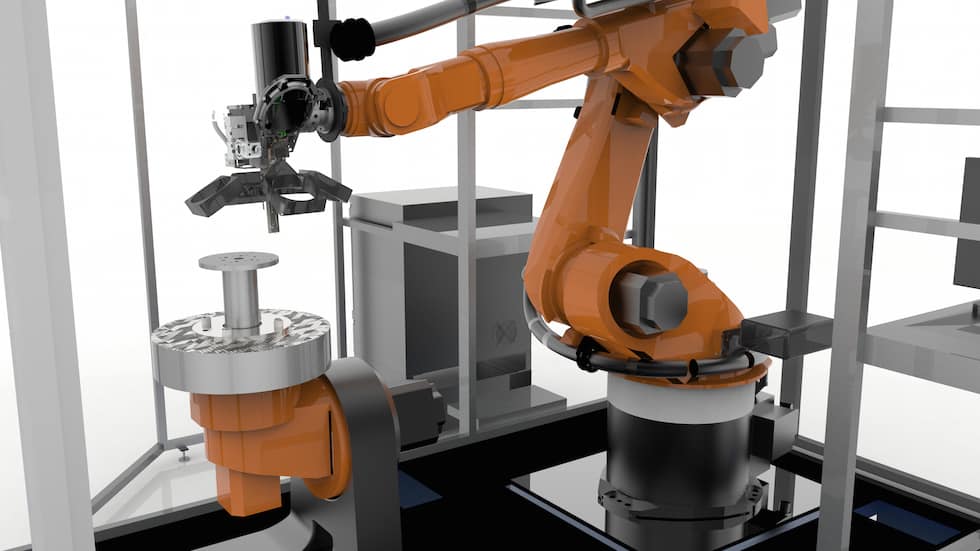 Stratasys' Robotic Composite 3D Demonstrator, developed in conjunction with Siemens, removes steps such as manual lay up and curing in an autoclave to produce composite parts in 3D. Garrity added that the traditional composite process can be difficult in terms of scaling, and rendering the types of detail that are often required in parts."
By comparison, the Robotic Composite 3D Demonstrator delivers 3D printing by using an 8-axis motion system (a six axis robot with two axis rotary positioner) that enables precise, directional material placement for strength while also reducing the need for support structures and eradicating layer transitions.
"We're not in the business of inventing a specific output," said Ilan Levin, Stratasys CEO. "What we are trying to do is identify applications and deliver upon those applications as best we can and provide as much value as we can.
Both machines will be demonstrated at the International Manufacturing Technology Show in Chicago between Sept 12-17.