Technology to remove satellites from space – and prevent the further build up of man-made space debris - is being investigated by researchers at Strathclyde University.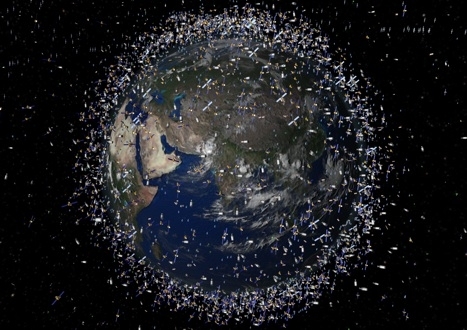 The team has been awarded some €116,700 of EU funding as part of the two-year TeSeR (Technology for Self-Removal of Spacecraft) programme that is being led by Airbus Defence and Space.
According to NASA, over 500,000 pieces of space debris - made up of items including non-functioning spacecraft and abandoned launch vehicle stages - are currently being tracked as they orbit Earth at speeds of up to 17,500mph.
With a total of €2.8m in funding from the Horizon 2020 programme, TeSeR will carry out initial research for the development of a prototype of a cost-efficient but highly reliable removal module.
Dr Malcolm Macdonald, director of the Strathclyde-based Scottish Centre of Excellence in Satellite Applications explained via email that parts of large spacecraft can survive re-entry and need to be de-orbited more carefully than small satellites that burn up in the atmosphere.
"So large spacecraft may require a propulsion based system, while small spacecraft may be able to use something else," he said, adding that the programme will prioritise solutions for sub-500kg spacecraft that operate in low-Earth orbit; the category that would need a non-propulsion based system.
An additional element to the project is to investigate any future platform's function as a removal back up in the event of loss of control of the spacecraft.
Macdonald added that the most efficient means of removing a functional spacecraft is to use its own propulsion system, and that for the for the equivalent amount of fuel (or less) it would be challenging to develop a new system that duplicates this function.
"However, anomalies happen and spacecraft fail before the end of life, in this case even if the propellant tank is full it is of no use if you can't command the spacecraft to use it," he said. "In such a case it is desirable to have a fail-safe system that can, in-effect, remove the otherwise dead spacecraft. Such a fail-safe system will have a mass - and cost - impact on the spacecraft but it could be argued that by not installing such a system you would be at fault following a debris event involving your spacecraft."
Macdonald said the project will seek to develop at least one, but up to three, of the identified modular concepts to a prototype stage.
"As it is a modular system the idea is that it should be able to have, say, a propellant module that is swappable - on the ground and before launch - with, say, a solar sail or drag augmentation device, and so forth," he said. "Such decisions would then be made on the basis of the spacecraft the device was being attached to."
Partners in the project are: Aalborg University; Beazley Furlonge; D-orbit; GOMspace; HTG (Hyperschall Techologie Göttigen); PHS Space; Universität der Bundeswehr München; University of Surrey; Weber-Steinhaus & Smith. The University of Glasgow is also participating on a sub-contract to Strathclyde.