The millimetre-long titanium tube is designed to halt the progress of glaucoma, which is responsible for causing blindness in more than 67 million people worldwide.
Called the iStent, it replaces the need for a daily routine of different eye drops and can be implanted in a 15-minute operation.
'The problem with drops is that you need to take them religiously to put a hold on the disease,' said Jackie Handley, national business manager of Spectrum, the iStent's UK distributor.
'Existing operations such as a trabeculectomy are more for the end stage of the disease and leave you with little choice of doing anything else. They can cause blebs [blisters] and can be uncomfortable for patients.'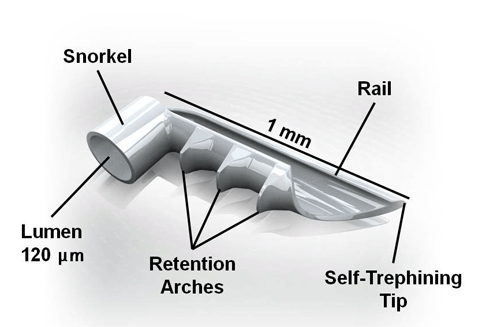 Glaucoma causes damage to the optic nerve related to increased pressure in the eye over a long period of time. While a trabeculectomy involves creating a channel in the eye to remove fluid, the iStent is implanted in the natural draining canal.
It is made from surgical grade non-ferromagnetic titanium and weighs 60µg with a snorkel bore diameter of 120µm. It measures 1mm by 0.5mm by 0.25mm and its retail cost in the UK is £395.
'Titanium is the same material used for heart valves so it won't be rejected by the body,' said Handley. 'The worst that can happen is that it doesn't work.'
The NHS has approved the device for use, although so far it is only available in a small number of locations, including the Mancheser Eye Hospital. The first operation in the UK was carried out at the Cathedral Eye Clinic, a private clinic in Belfast.
The iStent was designed by California-based company Glaukos and it is also available in Canada, France, Germany, Italy and Spain. The company is waiting for FDA approval to sell the device in the US.
Developing world
The iStent could become particularly important for treating glaucoma in developing countries if costs can be brought down.
'There is a massive problem in Africa where, for genetic reasons, the majority of the population are at significantly increased risk of glaucoma,' David Wright, chief executive of the International Glaucoma Association told The Engineer.
'This technique would appear to be simple and quick when compared with trabeculectomy, the standard glaucoma filtration operation, and it should have a lower liability to complications such as hypotony (excessively low eye pressure), or infection.
'It therefore has the potential for widespread application within the developing world, as well as in the developed world, where its apparent simplicity and speed of installation could be a significant advantage to the health services.'
But because the iStent prevents glaucoma from getting worse rather than curing or reversing it, spotting the disease early is vital.
'The most significant problem within the developing world is achieving an early diagnosis of glaucoma,' said Wright. 'In many cases, diagnosis only occurs in the late stages when much irreversible damage has already been done.'