UK-based Aquamarine Power has announced that it has made a significant investment in Ocean Flow Energy to secure a new technology to produce energy from deep water tidal resources.
The investment complements Aquamarine Power's existing technologies and will further strengthen its position in the marine renewable energy sector.
Aquamarine Power already boasts a diverse portfolio of marine energy converters.
Oyster, its hydro-electric wave power device, is due for installation at the European Marine Energy Centre (EMEC) next year, while its tidal stream energy converter Neptune is currently the world's largest under development at 2.4MW.
The Neptune power conversion nacelles will be demonstrated on a pile-mounted structure at 30m water depth.
The Ocean Flow Energy device - currently known as Evopod - is a moored, semi-submersible structure designed to generate electricity in exposed, deep water sites.
The device's patented low-motion hull is innovative in that it makes it suitable for operation in harsh environments such as the Pentland Firth.
Ultimately, this unique structure could be used to mount Aquamarine Power's Neptune nacelles - opening up the whole of the UK's tidal stream resource for exploitation using Aquamarine Power's technologies.
Ocean Flow Energy has successfully partnered with the New and Renewable Energy Centre (NaREC) and the award-winning wave and tidal power research group at Queen's University Belfast.
Both parties have played a pivotal role, supporting Ocean Flow Energy with the deployment of a 1/10th scale prototype at Portaferry, Strangford Narrows, Northern Ireland.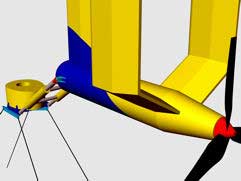 Martin McAdam, chief executive officer of Aquamarine Power, said: 'With more than 50 per cent of the UK's tidal resource located in waters greater than 40m deep, the market demand for Evopod is expected to be very strong and Aquamarine Power will be taking full advantage of that.'