Capstone Turbine, a Los Angeles-based manufacturer of microturbine energy systems, has announced that its C30 liquid-fuelled microturbine has been integrated into a Ford S-Max people carrier in the UK.
Langford Performance Engineering, which is based in Wellingborough, designed and modified the Ford S-Max seven-seat crossover vehicle into a series hybrid plug-in vehicles with a C30 under the hood as an electric range extender.
Langford reports that the Whisper Eco-Logic car gets up to 80mpg in early-stage demonstration testing.
'Our Whisper Eco-Logic vehicle is a plug-in electric car with an onboard turbine generator to keep the batteries charged and extend the range of the car beyond that of a typical electric vehicle,' said Dick Langford, Langford's founder and managing director.
'This sets it apart from the hybrids now available such as the Lexus and Toyota, which use conventional four-stroke engines to provide both vehicle drive and battery charging. In early demonstration testing, the car is getting up to 80 miles per gallon and travels 40 miles on electric power before the Capstone turbine generator starts up and charges the lithium-ion batteries,' he added.
'The Ford modified by Langford is an extremely practical solution and one that Langford has been working on for more than two years,' said Jim Crouse, Capstone's executive vice-president of sales and marketing. 'The design characteristics of Capstone's turbine permits ultra-low emissions, high fuel economy, multi-fuel capability, no coolants or lubricating oil and little to no maintenance in an automotive application,' he added.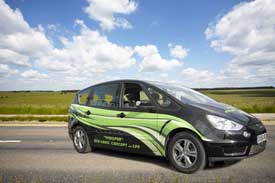 Langford Engineering will be marketing and demonstrating the plug-in hybrid vehicle in the hope of further developing the concept with a suitable automotive partner that could commercialise the product for US use and capitalise on a portion of the Obama administration's $2.4bn (£1.5bn) outlined in the stimulus fund to get more electric vehicles on US roads.