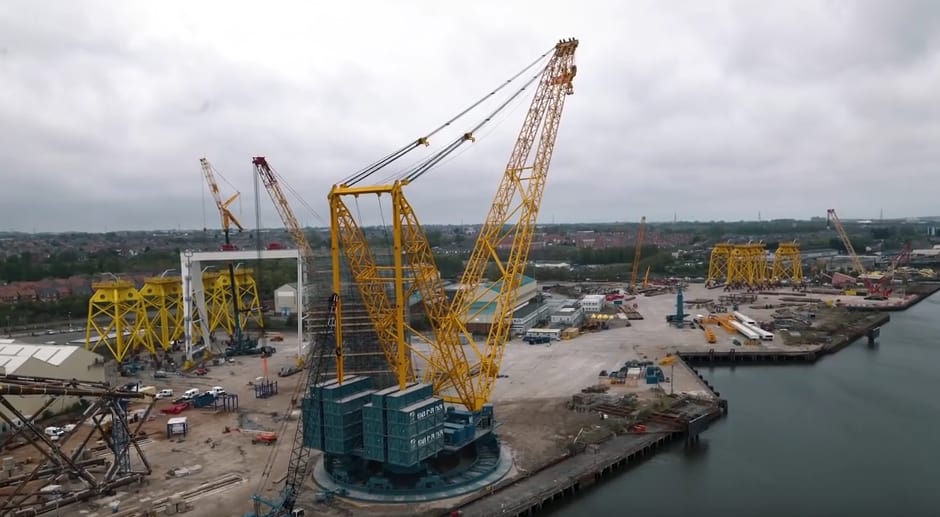 Sarens' behemoth – the SGC-250 - was officially launched on November 9, 2018 at the Port of Ghent, Belgium, where it demonstrated its slewing and hoisting capabilities.
The SGC-250 can lift 5,000 tonnes and extend its main boom to 160m but Sarens says its most unique feature is its ability to relocate, fully rigged on site, from one lifting position to another. According to the Belgian company, this 'constitutes a breakthrough for the entire global crane industry'. The company adds that the crane has two sets of wheels: one for slewing 360° and one for travelling. The second set is hydraulically retractable and is pushed out whenever the crane needs to travel.
SGC-250's notable features include:
Power. SGC-250 has a maximum load moment of 250,000 metric tonnes and the ability to lift 5,000 tonnes. It's the strongest crane of its kind, with all the features and flexibility of a fully-mobile ring crane with winches and cables, hook blocks, and the ability to slew 360°.

Low Ground Pressure. The SGC-250 never exceeds ground pressures of 25t/m², thanks to several wheel bogies on double ring beams and spreader mats.

Flexibility. The SGC-250's main boom can be extended from 118m to 160m, and the jib can be extended up to 100m. This combination provides height of about 250m, or radius of 275m.

Coverage. SGC-250 can operate on two hook blocks: one on the main boom and one on the jib, allowing it cover each area of the job site.

Safety. Full redundancy system on the hoisting and slewing system is achieved by intelligently connecting and steering all 12 engines with six power packs.
Source: Sarens