A wearable battery-powered robotic arm that can be used to boost a user's weight-lifting strength by upto 18kg is the winner of this year's James Dyson award, an annual prize established by the prominent industrialist's charitable trust, The James Dyson foundation.
Developed by a team of four mechanical engineering students from the university of Pennsylvania in the US, the Titan arm was invented to help reduce the risk of back and arm injuries in people like warehouse workers, who have to repeatedly lift heavy items.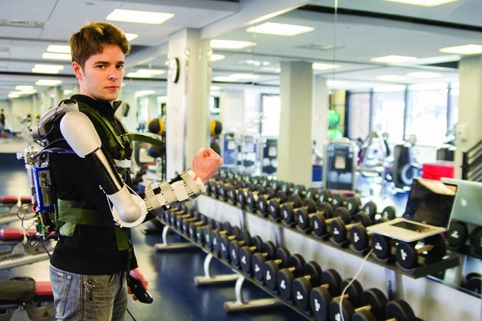 Its developers claim that it could also be used to help stroke and injury victims rebuild muscle and relearn fine motor control, and even enable people with permanent disabilities to regain independence.
The system, which has been designed to be a fraction of the cost of existing powered exoskeletons also provides detailed quantitative feedback to doctors which can be used to motivate their patients by tracking improvement over time.