The biggest increase in graduate jobs vacancies among the top firms looking for engineers is in the consumer goods manufacturing sector, with companies behind some of the world's most recognisable brands from Mars to Smirnoff planning an average rise of 10.3 per cent.
The most popular firms that cover industrial engineering, such as Jaguar Land Rover and Rolls Royce, are also hoping to increase their graduate recruitment by an average of 5.0 per cent. This follows a 20.8 per cent rise in new starters last year.
In the IT and telecoms sector, covering the likes of Google and BT, graduate recruitment is expected to remain the same as last year, but the oil and energy industries, which includes employers such as BP and E.ON, are cutting new graduate jobs by 11.7 per cent.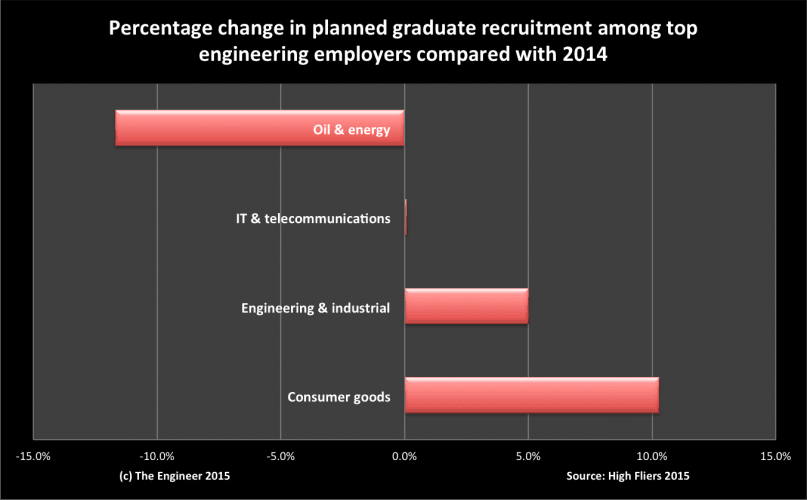 The figures come from the latest "High Fliers" survey of the top 100 companies named by The Times newspapers as the most attractive graduate employers according to a survey of 18,000 final year students in the top thirty universities.
The other good news is that there should be slightly less competition for jobs at the top industrial firms because while places have increased, the number of applications in the first part of the year has remained the same.
And those looking for paid work experience should also be cheered by the fact that placements at top industrial firms have increased by 51.8 per cent compared with last year, meaning there are now almost as many placements as there are jobs.
Those who don't get placements with the top companies shouldn't despair, however, as 65 per cent of jobs at the top industrial companies go to graduates who haven't worked for that firm before – far more than in other sectors such finance and law.
But in the oil and energy sector things are getting more competitive, with placements at top firms down 2.9 per cent and only 45 per cent of new starters securing a permanent position without prior work experience.
The UK's top engineering employers
Engineering & Industrial
Airbus
Arup
Atkins
BAE Systems
Dyson
GE
Jaguar Land Rover
Rolls-Royce
Siemens
Consumer Goods
British Sugar
Diageo
L'Oreal
Mars
Mondelez International
Nestle
P&G
Red Bull
Unilever
Oil & Energy
BP
Centrica
E.ON
EDF Energy
ExxonMobil
Shell
IT & Telecommunications
BT
Google
IBM
Microsoft
You can download the full High Fliers report here.