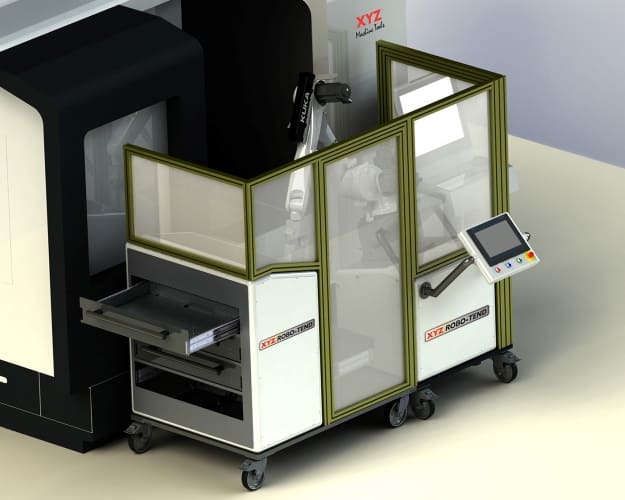 Developed in collaboration with Stockport's Adelphi Automation, Robo-Tend is based around a self-contained KUKA Cybertech KR10 R1420 robot, with a rated total load of 10kg. The robot is managed via the KUKA KRC4 compact robot controller, integrated within the system's handle, which is used to manoeuvre and reposition the robot in front of the machine. An onboard vision system is then used to calibrate it using the orientation plate fixed to the machine.
According to XYZ managing director Nigel Atherton, the new system's versatility and modular approach makes automation available to manufacturers of all sizes, freeing up vital human resources as well as improving productivity.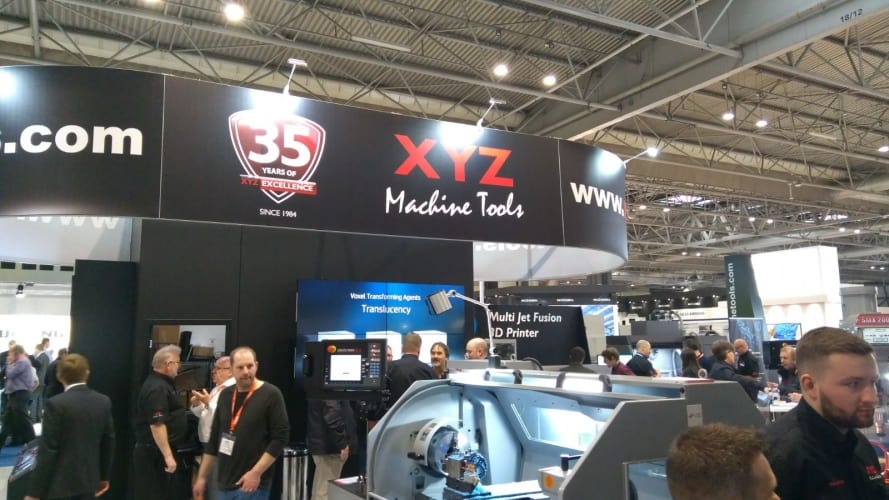 "There's a lot of people with robots out there, but we wanted to have something that was very simple," Atherton told The Engineer. "We've come up with a drawer system. The way that it works is that you don't have to have masses of the same component, you literally can have different components in every drawer, and it'll just put them into the fixer or the vice and machine, lights out."
With the robot in place, the components are presented to it in a secondary storage trolley. Components are held in four drawers that feature dual access, one side where the robot picks from and the other where the drawers can be pre-loaded out of the working area. These drawers are configurable to allow a mix of raw material blanks and finished parts in many configurations; for example, 8 x 10kg billets or 20 x 3kg billets, with parts up to 120 mm high being accommodated. For bigger jobs, the drawer system can be changed or a conveyor system fitted. A series of location/orientation pegs within the drawers ensure that parts are loaded correctly. Once in place, the robot locks on to the storage trolley and automatically identifies its contents.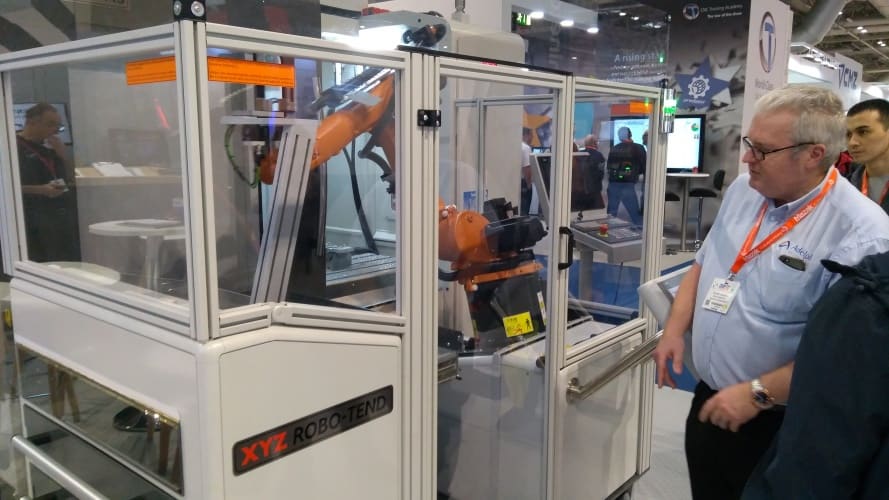 "We've made it a very, very versatile robot," Atherton explained. "We'll launch it probably in the late summer. It's very much a prototype that you've seen here today. We only started on the product in January, but as I say, I think it's got a bright future."
Alongside Robo-Tend at the XYZ stand (H18 – S640) is the latest 3D printing technology from HP Inc. The US giant's Multi Jet Fusion solutions have recently become available via XYZ, and the Devon-based firm believes the technology has matured to the point where it is genuinely complimentary to traditional machine tooling.
"Obviously 3D generates a lot of interest," said Atherton. "I didn't think that 3D printing would ever be fast enough to be a viable proposition for production, and there's enough people already in the prototyping game, so we avoided it. Then HP approached XYZ and asked if we'd be interested in the (Multi Jet Fusion) printer. And when we saw the speed of it and what it's capable of, we got very excited and jumped in with both feet."