Viewpoint

The companies involved in the Formula E electric motor-racing series, now in its fourth season, need to be aware of intellectual property protection, especially if they are working in partnership with other firms, says Russell Edson of Withers & Rogers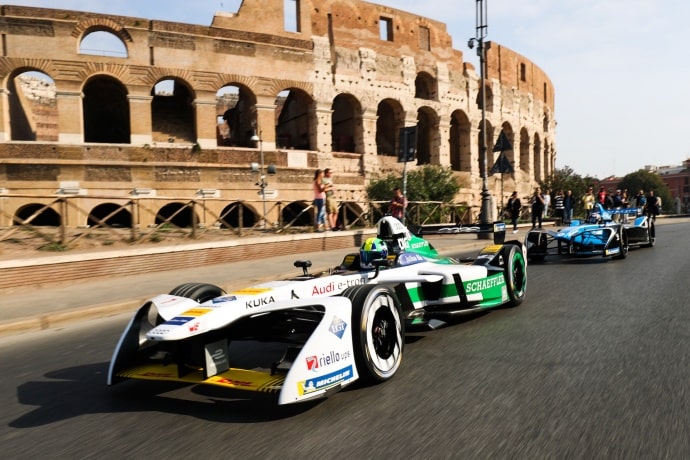 Brazilian driver Lucas Di Grassi drives his Formula E Audi e-tron ahead of Sebastian Buemi's Renault in a street demonstration event in Rome. image: Malcom Griffiths/LAT/Formula E
With Formula E's fourth season well underway, the global vehicle manufacturers involved in the series have been taking steps to ensure their teams and vehicles are ready to perform at their best. But will they gain from their involvement commercially and if so how?
Interest in the FIA Formula E Championship has gained significant momentum in recent months and three more vehicle manufacturers have signed up for the 2017-2018 season – BMW, Mercedes-Benz and Porsche. The latter two will be lining up on the grid alongside the likes of Audi, Jaguar Land Rover and Renault, whilst BMW is joining Formula E as an official manufacturer, in partnership with the Andretti Formula E team. It hasn't gone unnoticed that all three newcomers are German; pushed along perhaps by the German Government's proposed ban on internal combustion engines in new vehicles by 2030.
Since the start of the year, much has happened in the world of electric cars. In September last year, Jaguar Land Rover announced that it will cease making cars driven solely by internal combustion engines from 2020 and Volvo will only be producing vehicles with hybrid power trains from 2019. And these manufacturers are by no means alone; virtually all vehicle manufacturers are stepping up their plans to produce all-electric vehicles.
With so much interest in developing a mass-market, all-electric car, there is much at stake from both a competition and innovation perspective, and OEMs are rightly covetous of the battery and drivetrain technologies they are developing. For this reason, bringing their innovations onto the grid in Hong Kong, where the world's media will be on hand to scrutinise the vehicles, could seem a risky move – so are they ready?
In the world of Formula 1, spying tactics including the use of secret cameras, have been commonly deployed in the past to gain access to engineering know-how, despite the efforts of individual teams to keep their technologies secret. In this context, it is not unusual for details to be leaked if an engineer joins another team, or if an over-eager photographer gets access to an area that should have been out of bounds. While in the past such leaks were considered commercially unfortunate, the market repercussions were limited. This is because the technologies applied in the F1 vehicles were typically 'ahead of their time' and their use in the production of road vehicles was usually at least five years away.
Today, the route to market is much shorter. With governments around the world regulating for a cleaner motoring future and consumer demand for electric or hybrid cars growing rapidly, electric car production is growing at a pace. In this fast-moving market, any cutting-edge technologies being tested on the motor racing circuit could easily find their way into a concept road car almost immediately.
Bearing this in mind, vehicle manufacturers would be very brave to think they can keep ahead of their competitors merely by keeping their innovations secret. Just one breach of security could leave their technologies exposed to a raft of reverse engineers who would be free to develop them commercially for their own ends. Instead, OEMs should be ensuring that each innovation coming out of their involvement in the Formula E series in particular has robust, multi-layered intellectual property protection, which they can either license to third parties or retain for their own purposes.
Of course, any involvement in Formula E is likely to bring more opportunities than risks. The competition has become a vibrant test bed for electric car innovation, where the world's leading brain power can come together to solve common battery problems such as limited range and charging speed, and develop smarter and more efficient drive trains and energy recovery systems. The fact that all teams will be using the same specification of chassis and batteries, the latter being supplied by McLaren from 2018, suggests that there is a strong element of collaboration, which could help to further speed the way to market. These shared elements of the cars also increase the importance of innovation in areas where the teams are free to develop their own solutions, such as in the invertors, gearboxes, motors and suspension, all of which present different challenges in all-electric cars as compared to their petrol-fuelled predecessors in Formula 1.
To illustrate the opportunity that exists for Formula E collaboration, Withers & Rogers has mapped patent filing activity by each of the participating teams in the category of 'electric propulsion' as follows:
Team
Patent families in B60L11
Nissan NISMO
3079
Renault e.Dams
524
BMW/Andretti
382
DS Virgin Racing
247
Jaguar Racing
76
NextEV NIO
46
ABT Schaeffler
37
Dragon Racing
26
Mahindra Racing
10
Venturi Formula E
0
Penske Autosport
0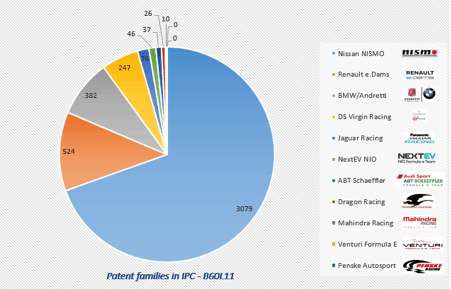 Taking into account the fact that the most recent data is incomplete, due to the time lag in publishing patents after they are filed, we can see that innovation activity in this area is proliferating. Of the teams involved in Formula E, new entrant Nissan is clearly ahead of its competitors in patent filings in the area. Other new entrants, BMW and Porsche, have some catching up to do. Other participants, ABT and Mahindra haven't registered any patent filings at all in this category, while Virgin has teamed up with DS, a Citroen spin-off. What's striking is that, with Nissan and Renault working in partnership, at least until Nissan replaces Renault in the e.Dams team next season, the combined IP portfolios of these teams clearly dominate patent filings in electric propulsion systems.
Although Nissan leads the field in patent filings among the Formula E teams, a broader look at the car industry shows that other players are even further ahead. Toyota's long heritage in hybrid-electric vehicles puts it far ahead in terms of patent-filing statistics overall, with over 10,000 patent families in electric propulsion systems. As Porsche, Audi and BMW don't feature in the top 25 patent filers in this technical area, they will have a strong interest in increasing their profile and rate of innovation in electric propulsion systems.
In summary, vehicle manufacturers have much to gain from their involvement in Formula E, but they must enter the race with both eyes open when it comes to intellectual property protection. Even if willing to support collaborative partnerships in order to gain access to leading technologies, it is important to retain ownership of any research and development crown jewels.
Russell Edson is partner and patent attorney at intellectual property firm, Withers & Rogers. He specialises in advising innovative businesses in the automotive, rail and marine industries.