The chancellor of the exchequer, George Osborne, is in China, attempting to open the floodgates to a rush of investment from its overflowing coffers from mass manufacturing and raw materials into the UK economy. A major focus of the trade mission is to secure investment in the UK's nuclear sector, with an agreement signed yesterday on civil nuclear cooperation between the two countries and talks believed to be taking place on China's state-owned operator, Chinese General Nuclear Power Group (CGN), taking a substantial minority stake in the Hinkley Point C station which EDF is proposing to build in Somerset.
The Financial Times is reporting that part of the deal will allow CGN itself to build and co-operate a nuclear power station in the UK at some unspecified point in the future, subject to the same safety regulations that other operators have to meet. CGN's reactor design would also have to pass the Generic Design Assessment necessary for any new reactor to be approved for UK use.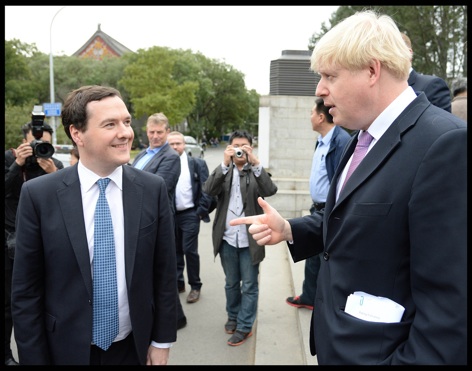 We're all now aware of the government's approach to UK infrastructure: it doesn't matter who owns it as long as it works. But this one will ring alarm bells.
When EdF is saying that British firms can't reach the material traceability standards to even provide components for Hinkley Point — UK engineering contribution seems to be limited to digging holes and pouring concrete — should we really be laying down quite as much of a red carpet to Chinese firms, whose regard for safety is an unknown quantity? In fact, with continuing concerns about Chinese cyber-attacks on foreign governments' computer systems, should we really be inviting companies which many believe to be effectively arms of the Chinese government into our critical infrastructure at all?
The US and Australia bar Chinese involvement in critical infrastructure for security reasons. Even given the UK government's seeming lack of recognition of the concept of 'critical infrastructure', it does seem distasteful to hand to a government with such a poor human rights record - and which threw what can only be described as a massive strop when David Cameron met the Dalai Lama - the keys not only to a huge chunk of the UK's power generation capacity (and let's remember that new nuclear is the keystone policy for keeping the lights on when old coal-fired and ageing nuclear plants come offstream) but also to nuclear technology, pretty much the defining case for 'sensitive'. But London mayor Boris Johnson, accompanying Mr Osborne on his mission, has seemed to imply that mentioning China's human rights record during negotiations is seen as discourteous. Don't mention Tiananmen Square. Or Tibet.
The Engineer isn't jingoistic. We're all for international cooperation on technology, and where overseas investment has led to economic revival of industry sectors and job creation, we've been only to happy to trumpet it — take the revival of the UK automotive sector in the Northeast, for example. But nuclear power stations are not the equivalent of car plants, and there's a big difference (not only in technological terms) between an internal combustion engine and a fission reactor. Mr Osborne has previously tried to position himself as a champion of British technology development and a guardian of British jobs. Allowing China this level of access to the UK civil nuclear sector is a strange way of of showing it; and as the representative of a party which likes to claim it has Britain's security interests close to its heart, it's positively inexplicable.