It reportedly came as a surprise to Prime Minister David Cameron when, during his trade visit to China last year, local companies and financiers expressed an interest in contributing to High Speed 2, the controversial project to build a new high speed rail line linking London, Birmingham, Leeds and Manchester. With the Chinese premier Li Keqiang now on a return visit to London, memoranda of understanding have been signed to pave the way for Sino-British cooperation on HS2, along with the upcoming nuclear new building projects in England and Wales.
The formal agreements that have been signed include a 20-year. £11.8bn deal for BP to supply gas to China's state petrochemicals company, along with an agreement with Rolls-Royce to work with the Chinese nuclear reactor manufacturer SNPTC on civil nuclear projects: R-R makes diesel emergency generators and other safety-critical kit for nuclear power. Other deals are in the solar energy sector.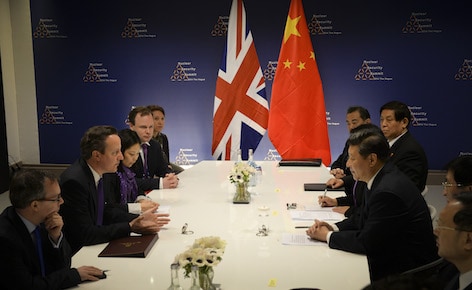 But it's the HS2 question which is receiving the most attention, and it's far from clear what it actually means. Its terms are broad: it includes the possibility of participation in upgrading infrastructure, collaboration on R&D, station design, equipment supply and safety and environmental protection, along with supply of products and services to third markets.
Pretty much the whole shebang, then, which is fairly normal for MoUs; at an early stage, it's not a good idea to rule things out. But, of course, this raises uncertainty. If part of the stated purpose of HS2 is to boost the UK's rail sector — which it is — then all we should actually need from China is an open chequebook; anything else raises the prospect of jobs which could be done in Britain going to Chinese companies.
It could be argued that if HS2 is such an attractive investment, then why isn't British finance investing in it? The general risk-aversion of UK banks when it comes to anything rather than financial engineering might answer that question, although it is now possible for other institutions such as pension funds to also invest in infrastructure — which, as yet, they haven't done; but again, it's early days.
Chinese investment in British industry and infrastructure is an new development, and it's going to require caution. China isn't the only country with dubious governmental practices to do business with Britain, so we can't be too sniffy about that. And large-scale Indian investment in Britain, which was also a surprise when it happened, has turned out to be mainly beneficial for jobs and skills in the steel and automotive sectors.
So all that we can say for the moment is that caution is needed. Opponents of HS2 or nuclear won't change their minds because of this development, but any further discussions must ensure that collaboration remains favourable for employment and skills development and retention in UK industry, and that any equipment imported for rail and nuclear as a result of these agreements passes the same stringent quality controls as any other equipment. Because when it comes to big-ticket projects like this, beggars can't be choosers; and after the finance sector's spectacular failure in the last decade, the UK has to follow the money.