In the race to net zero, decarbonising the power sector is increasingly important. Despite the growing integration of renewables onto the grid, outdated grid infrastructure is still a significant bottleneck, which has the potential to impede the energy transition and hinder progress to legally binding 2050 net zero targets. The grid acts as the backbone for transmitting and distributing electricity across vast distances, ensuring reliable power to every household regardless of location or time.
The Electricity Grids and Secure Energy Transitions report released by the International Energy Agency (IEA) a few weeks ago underlines the fact that, at a global level, grids are struggling to keep up with the rapid progress in renewable energy development. This revelation serves as a wake-up call for the energy sector and governments, underscoring the need to modernise our grid systems. Here are three key takeaways from the report.
Grids must keep pace with renewables – and harness battery storage
System operators must navigate the challenge of balancing supply and demand as we move to decentralised grids and are often having to curtail renewable energy to prevent the grid from overloading. The report highlighted that curtailment has reached alarming levels, in some regions averaging 3 per cent across ten markets – adding up to the equivalent of New Zealand's annual electricity consumption.
National Grid UK has recently made significant strides towards the decarbonisation of our power, by speeding up 20GW of clean energy project connections. However, we need to move quicker, ensuring that grid upgrades keep pace with these renewables.
Battery storage can play a critical role in this, enabling grid operators to store surplus renewables and minimise curtailment. This technology will continue to play a significant role, with the report highlighting that demand response and battery storage has the potential to fulfil nearly half of the world's grid flexibility requirements by 2050. But, alongside this, we still need to modernise grid infrastructure, so we need new poles and wires too.
Changing the charges
The UK Electricity System Operator's ten-year projection has raised concerns due to the unexpected doubling of Transmission Network Use of System (TNUoS) in some locations and significant decreases in others. These charges are levied on suppliers and generators to recover the costs of installing and maintaining the transmission network and are based on factors like location and actual demand.
This volatility in charges threatens to stall investment in renewable energy projects. A comprehensive review of this methodology is required to ensure it can provide investors with clarity. Ofgem must look at how it can provide longer-term assurance, to continue to secure investment in net zero from the private sector.
Wider policy reforms
A critical challenge in the energy sector is efficiently distributing energy at the right place at the right time. The report notes that new grid infrastructure takes five to fifteen years to plan and implement. Even in the UK, the connection dates for some projects are in the mid-2030s. Transforming from a "connect and build" mentality to a "build and manage" approach is key to integrating renewables into the grid.
The government's recent policy proposals in line with recommendations from the UK's Electricity Networks Commissioner, Nick Winser, signal positive strides in the UK's energy infrastructure development. Prime Minister Rishi Sunak's three-fold strategy prioritises redesigning the grid. Firstly, a strategic overhaul of the grid's design to accurately forecast future supply and demand. Secondly, a concerted effort to expedite planning for infrastructure like pylons. And finally, a commitment to reduce the wait times for generators seeking to connect to the network. These commitments align with the IEA's grid capacity priorities.
Significant hurdles lie in gathering public support for new projects and implementing regulatory reforms. Policymakers have the potential to expedite the projects by bolstering planning procedures, factoring in future investments in risk assessment, and simplifying administrative processes. However, to reach net zero, these policies need to happen fast, galvanising public support and working together to achieve our shared goals.
Collaboration is key  
Transitioning to clean energy is vital to combat climate change. While there are some promising signs, it is imperative that things move faster and collaboration between communities, operators, and industry needs to happen to reach net zero. EDF Renewables UK has been calling for faster development of grid infrastructure and a much more collaborative approach to avoid delays. It is up to us to act and deliver a smarter, green grid powered by renewable energy sources.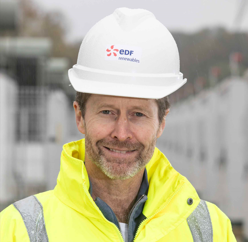 Matthew Boulton is Director of Solar, Storage and Private Wire at EDF Renewables