The last two years saw huge disruption in ways of living and working, caused by the COVID-19 pandemic and all its consequences. Everyday activities like travelling, seeing friends and family, attending celebrations, and carrying out our work had to change while we tackled this challenge, and a substantial portion of the population was at risk.
As it became clear that the COVID-19 virus spreads through aerosols and droplets in the air as well as close contact, the design and operation of buildings and the potential to ventilate them well became public health and policy priorities. But we discovered the UK's infrastructure lacks infection resilience, that is, it was not well equipped and designed to minimise transmission of COVID-19. While managers of many buildings mobilised quickly to provide hand sanitiser, encourage the use of face coverings, and implement social-distancing measures, it was not always easy to provide clean air for people to breathe. With windows painted shut, air-filtration systems not serviced to operate at full capacity, risks from outdoor air pollution and the need to maintain a comfortable temperature, there were few adequate systems in place to respond to changing ventilation needs. This not only posed a risk to anyone using those spaces during the height of the pandemic, but will continue to be a health risk even as the pandemic wanes. Poor ventilation contributes to poor indoor air quality and exposes people to harmful contaminants, exacerbating conditions such as asthma, or enabling the transmission of common colds and seasonal influenza.
That is why the Royal Academy of Engineering and the National Engineering Policy Centre were asked to look more deeply at this issue. The report, Time for a major upgrade, highlights eight actions to improve the health and sustainability of our indoor environments through regulations and standards that apply throughout the life of new or existing buildings. It also recommends setting a clear baseline for what best practice in infection resilience looks like and encouraging a commissioning process that ensures all buildings operate as they were designed to.
While we expect our buildings to have water that is safe to drink, we may not consciously have that same expectation for clean air. The quality of indoor air is not monitored or reported like energy performance or food hygiene, and many buildings have no formal management in place to monitor this. COVID-19 has been a wake-up call about the importance of good ventilation and now is an opportune moment to take steps to improve indoor air quality more broadly. It is vital that we raise awareness of good practice, making buildings that manage clean air well stand out. This will encourage action from others, allow individuals to assess their own risk, and help to ensure we can all play a role in maintaining healthy environments, from our homes to our workplaces.
This is not the first time that a major disease outbreak has required our built environment to evolve and adapt: cholera epidemics in the early 19th century drove the development of effective sewage systems; tuberculosis led to changes in building design to allow for more sunlight and air; and major outbreaks of legionella and E. coli in the UK resulted in regulatory reform on water treatment and food standards.
The UK is already working to transform the built environment and transport sector to meet the net-zero targets enshrined in UK law. It may sound counterintuitive to both improve insulation to reduce greenhouse gas emissions and at the same time enhance ventilation to improve health: surely increasing airflow in a building reduces its energy efficiency? But with intelligent engineering design, or mechanical ventilation with heat-recovery systems that reduce heat loss, we can achieve both. Even simple actions such as proper installation and maintenance of building systems, and managing ventilation needs throughout the day, can help reduce energy demands.
What doesn't help us to balance these two ambitions – improved air quality and net zero – are layers of regulations that are not joined up in a holistic way to deliver a healthy environment. Indoor environmental quality encompasses not only air quality, but also levels of light and noise pollution and thermal control, all of which have a direct impact on health, as well as implications for energy demand. We need to be bold in our expectations for the healthy operation of a building throughout its life. This means improving the way we commission and test buildings and their systems and enforcing standards at handover and in subsequent use. This needs to be accompanied by the right skills and capacity across architecture, engineering, and regulatory professions.
Much research has been done during the pandemic on air flows and ventilation to control the spread of the airborne COVID-19 virus. We must take the opportunity to integrate that learning with what we know about reducing emissions and fire safety to deliver buildings that are safe, healthy and sustainable – throughout their entire lifespan as well as on the drawing board.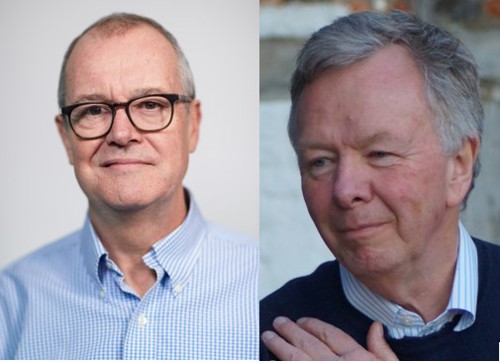 L: Sir Patrick Vallance FRS FMedSci FRCP, Government Chief Scientific Adviser
R:Professor Peter Guthrie OBE FREng, Vice President of the Royal Academy of Engineering
More from The Engineer