In a global car market worth an estimated $3.8tr annually, it is the brand that often drives customer choice, not only defining an OEM's success but enabling them to charge a premium for performance. A car brand is however more than skin-deep and extends beyond the superficiality of car styling. The subjective attributes of a car – how it handles, how it imbues a driver with confidence in its consistency, or how safe or exciting it feels – extends these characteristics right down to the subconscious level for a prospective buyer and defines success in this intense competition to meet ever-more discerning consumer requirements.
This 'engineering to consumer preference' is made all the more complex by attribute array for any given car model being myriad, extending potentially to thousands of characteristics – many of which may conflict with one another. Delivering, for instance, a ride characteristic that a driver might regard as refined or luxurious could restrict the ability to deliver a feeling of high-performance feedback for a more active driving experience.
In order to deliver a finished vehicle with characteristics that are on-brand and reflect the virtues of a particular marque, the traditional approach relied on objective engineering processes. Only once a prototype had been developed could the subjective tuning begin as a test driver climbed behind the wheel to assess how a new design behaved dynamically. Unfortunately, the relationship between objective and subjective engineering is not linear, comparable, nor predictable. Form may precede function, resulting in a vehicle that exhibits an unrewarding and forgettable user experience, leaving those behind the wheel 'numb' and creating an issue that requires significant investment and resource to resolve.
In recent years, with significant advancements in simulation and simulator hardware capability, the industry has made a step forward in the adoption of virtualisation via the use of driver-in-the-loop (DiL) simulators, accelerating the process of adding a human into the loop at an earlier stage in the virtual series of the development process. The successes of DiL simulation are enabling a more rapid adoption of new and novel approaches, disrupting the traditional industry processes, particularly in the areas of hardware-in-the-loop development and autonomous vehicle validation. This is currently where extensive physical product validation is not only driving cost but limiting the speed and roll-out of new technology. The result is a reduction in the product development risk, the time to market, the carbon footprint associated with building and testing multiple prototype vehicles and also improvements in ultimate product performance.
With a suite of simulators at HORIBA MIRA, our subjective attribute engineering puts the human-in-the-loop at the very start of the virtual series. The use of sophisticated simulator tools gives the attribute development engineer the freedom to make accurate and unlimited attribute comparisons and refinements quickly and at lower cost, often with the mere flick of a switch. This enables multiple informed subjective decisions to be made during the virtual phase of design, as the engineer works to balance conflicting attributes to achieve an optimised vehicle. Built on the strength of the team's extensive attribute engineering capabilities, HORIBA MIRA is paving the way forward with its novel approach of scenario fuzzing and multi-pillar testing to help reduce the burden of physical ADAS testing without a reduction in product performance.
The subjective engineering approach starts with a PALS assessment – a product attribute leadership strategy – that benchmarks class competitors with which the new vehicle must compete. A jury team will assess all competitor vehicles in a cascade of attribute levels, grading them across a range of performance from class leader, amongst leaders to competitive and so forth. With a fully tiered matrix of competitor attributes that break down into more granular details – for instance, grading handling attribute parameters when cornering in steady state or transient conditions – the new vehicle development team can set target attributes for the new car that will both meet brand expectations while also performing against the class competition.
With targets set, the subjective engineering process leads the vehicle's development.  The virtual series is now so powerful that complex components or systems such as active anti-roll bars, rear wheel steer and torque vectoring can all be developed and calibrated earlier in the vehicle's development cycle, enabling the engineers to do more in a shortened development cycle. This cascade of subjective attributes gives rise to enormous scope of optimisation that may demand 1,500 or more variables are assessed and subjectively optimised before a single nut or bolt is manufactured.
As automotive engineering scales a revolution in new technologies – spanning electrified powertrains, connected and autonomous functionality, new human machine interfaces and wholesale revisions to vehicle interiors to respond to new functional requirements – subjective attribute engineering has become ever more important to accommodate these developments without waste, time or cost.
With this level of complexity in the automotive subjective engineering process and the huge advances made in base level vehicle performance in the past 10-20 years, the question remains: why has the subjective-led attribute approach using virtual tools not been more widely embraced across all areas of product engineering, where considerations of brand appeal and predictability of product attributes are fundamental to commercial success? There is always a balance between performance, cost and time. Product strategies vary, and often low cost and fast production are prioritised, frequently to the detriment of performance, quality and durability.
Perhaps part of the reason that subjective attribute engineering has flourished in the automotive industry is the complex human interaction drivers have with cars that span the emotional to the rational, the conscious to the subconscious – something that can rarely be said about the way people interact with kettles or vacuum cleaners. But nevertheless, the automotive subjective attribute engineering approach offers much to product development engineers who face the same challenges of reducing product development risk, time to market, carbon footprint and improvements in ultimate product performance.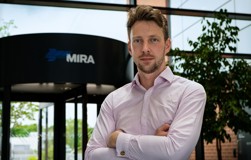 Jon Maybin leads HORIBA MIRA's commercial team focusing on automotive attribute engineering services.

HORIBA MIRA is one of the world's leading automotive engineering consultancies that is pioneering the use of advanced simulation tools to enable OEMs to build better cars more quickly and reliably with a reduced carbon burden.