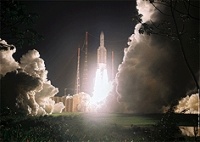 If its taken you longer than a few seconds to load this page, then the launch of the Hylas-1 satellite this evening will be welcome news.
Between 18.39 and 21.54 today, Hylas-1 will be launched into orbit from the Kourou spaceport in French Guiana.
The mission aims to address the large demand for broadband services in Europe using its 'highly adaptable' payload developed at Astrium's sites in Portsmouth and Stevenage.
It's the first payload to employ a new architectural concept called the Generic Flexible Payload (GFP) which allows the satellite's frequency plan to be re-defined via command from the ground.
When combined with new power amplifier technology that redistributes the satellite's transmit power, the payload can flexibly re-allocate its resources according to the different demand levels.
As a result, consumers using Hylas should be able to enjoy speeds of up to 10Mb per second allowing the government to deliver on its commitment to provide 2Mb per second to everyone by 2012.
This will be ESA's first private-public partnerships to result in an operational mission. UK operator, Avanti Communications, has put up the majority of the budget, while ESA contributed to the communications payload.
It's a great example of public spending being pumped into the right area with the potential earnings from broadband set to provide a very good return on investment.
One person who will be keenly watching developments is Sir Martin Sweeting, chairman of Surrey Satellite Technology.  He has a vision to make the UK the 'Vodafone of the moon' by launching smaller and cheaper satellites with services that can be bought by other nations.
According to Sweeting, who we interviewed earlier this month, telecommunications is where the money is in space. It's the most mature of the satellite technologies and it is the industry that underpins the rest of Europe's space endeavours.
As telecom satellites go, Hylas is on the small side with a launch mass of just over 2.5 tonnes. With space agencies catching on to the idea of smaller satellites, the UK could be in a strong position to capitalise on its expertise.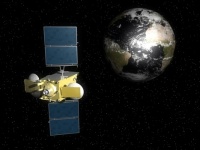 The Hylas-1 launch will be webcast live on the Ariane Space website this evening.