Viewpoint
Eco-friendly engineering is driving a revolution in commercial vehicles. Nigel Carr of Ryder UK looks at the potential of this emerging technology.
Commercial vehicles are undergoing an eco-revolution. Mounting environmental concerns over the past decade, led by European legislation and low emission zones (LEZs) in major cities, are fuelling a new wave of green technology from truck and van manufacturers – from gas engines to kinetic energy recovery systems.
Ryder, as the UK's leading provider of commercial vehicle rental and leasing, is at the cutting edge of this exciting engineering – in constant dialogue with OEMs about emerging technology and advising our customers on green transport solutions.

One key focus area is urban deliveries. A more urbanised population and the trend towards online shopping has increased commercial vehicle traffic on urban roads, and cities such as London, Paris and Madrid are bringing in zero or low emission zones to combat poor air quality. For this reason, we are seeing a leap forward in electric and hybrid electric vehicles.
In the UK, Ryder will shortly take delivery of the Iveco Daily Electric van, a 100% electric vehicle with zero emissions. The batteries are sodium nickel chloride, which are maintenance-free and 100% recyclable. There is a 'fast charge' option that allows batteries to be recharged in as little as two hours, although domestic charging takes around 24 hours.
The Daily Electric offers three payload options, with one, two or three batteries, with more batteries meaning a lighter payload but enabling longer range deliveries. So a 3.5-tonne high-roof van with three batteries would offer a reduced 678kg of payload, but a range of up to 200km.
This highlights the large weight difference between alternative fuel systems and conventional engines, which puts the former at a disadvantage. Manufacturers have been lobbying for a 'payload bonus' that would extend the legal gross vehicle weight for standard licences from the current 3.5-tonne threshold to 4.25 tonnes for electric vans and light commercial vehicles. This could come in by the end of 2017.
For fleet operations in which vehicles cover greater distances, hybrid options are more attractive, particularly diesel-electric. These vehicles use diesel power for long-haul runs on trunk roads, then switch to electric at city outskirts to meet the LEZ requirements. DAF is the latest manufacturer to explore this technology, unveiling a concept vehicle at last year's IAA CV Show in Hannover, Germany.
A greener form of hybrid is hydrogen-electric. In the USA, Ryder UK's parent company Ryder System Inc. recently became distributor and maintenance provider for the Nikola One hydrogen-electric truck. Energy is supplied 'on-the-go' by a hydrogen fuel cell, giving a range of 1,300km to 1,900km, while delivering more than 1,000hp and 2,000Nm to 2,700Nm of torque. The hybrid can be refilled in 15 minutes. The Nikola One's appeal is in reduced operating costs – the manufacturer estimates they are half that of a diesel vehicle – and zero emissions.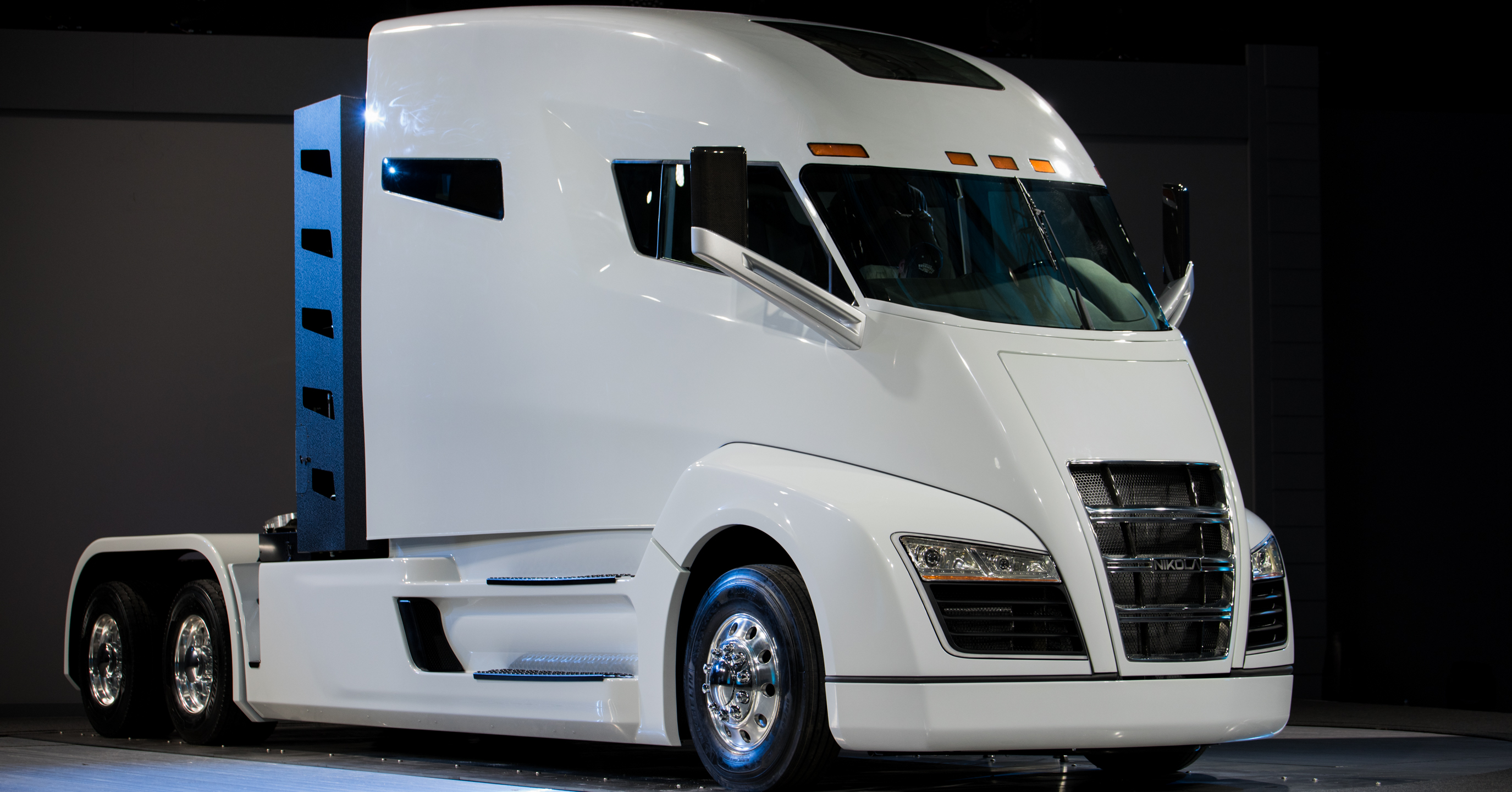 Gas is another alternative fuel system becoming more common, chiefly in the USA and continental Europe where the refuelling infrastructure is more extensive than in the UK. That said, gas vehicles can have a big range, negating the need for regular refills. The Iveco Stralis LNG (liquified natural gas) tractor unit recently completed the 1,347-km journey from John O'Groats to Land's End on a single fill, pulling a laden tri-axle trailer.
The Stralis is powered by an 8.7-litre Iveco Cursor 9 engine that delivers the same output of 400hp and 1,700Nm of torque as its diesel equivalent. It stores the gas in liquid form at -125ºC, which is fed to the engine in gaseous form, after passing through a heat exchanger. The LNG vehicle also offers reduced emissions, quieter operation, fuel costs around a third lower than diesel, and an excellent power-to-weight ratio. Ryder is currently trialling the Stralis with major customers.
Beyond engines
Other technologies are also contributing to the greening of commercial vehicles.
Ryder has worked with a consortium of partners, including Howdens Joinery and Imperial College London, to secure £2.2m of funding from Innovate UK to evaluate the energy and emissions benefits of a kinetic energy recovery system (KERS) for trailers. The technology is commonly used in Formula 1, and has potential in commercial vehicles because of the energy released by braking in heavy goods vehicles.
With KERS technology, the tractor unit communicates with the trailer to manage the power boost provided by the trailer's electrically-motorised axle. During braking, the motor becomes a generator, recovering kinetic energy that would otherwise be lost as heat, and storing it in a bank of ultra capacitors. Given the stop-start nature of urban deliveries, this technology has significant potential.
Some innovations have an indirect impact. Many trucks Ryder supplies now include vehicle tracking, which helps with driver behaviour, routing and fuel economy. Greater use of automation, including predictive power requirements and automatic braking systems, mean more efficient vehicle operation, reducing fuel consumption and wear and tear.
Ryder keeps an open mind about all new engineering that comes in to the commercial vehicle market, testing and analysing new products, recognising that every innovation – no matter how small – can help clean up our air.
The challenge is the take up of the technology and it being commercially viable. This includes the whole life cost of operation, including fuel savings, but also what you do with your current asset. We can't 'throw away' 70% of the UK's commercial vehicles and call that environmentally-friendly. The Government and local councils are in lead position to help find an answer to this conundrum.
Overall, the commercial vehicle sector has made great progress in cutting emissions. The latest EU emissions regulations – Euro 6, introduced in 2014 – upped the game considerably, and recent tests show the technology used by Euro 6-compliant vehicles has virtually eliminated particulates. Average light commercial vehicle CO2 emissions were 173.7g/km in 2016, down 1.9% year on year. The regulatory backdrop is only likely to get tighter though, with London introducing an ultra LEZ in 2019, meaning tougher financial penalties for vehicles not meeting Euro 6 standards, and other UK cities set to follow.
Nigel Carr is head of engineering at Ryder UK, which operates a fleet of nearly 20,000 vans, trucks and trailers through contract hire, rental, maintenance and dedicated delivery solutions. Ryder UK is part of Ryder System, Inc., a Fortune 500 provider of leading-edge transportation solutions, which manages 234,000 vehicles worldwide.