There is absolutely no doubt in my mind that the UK's refocus on manufacturing and engineering has not come soon enough, and that rebalancing our economy, away from over-reliance on financial services, makes long-term sense. At McLaren – in all its forms – we're fully committed to this.
We at McLaren believe passionately in the importance of manufacturing high-tech, state-of-the-art, premium products. We're committed to growth and constantly looking at what we do and how we do it – because change sits at the heart of McLaren. We focus everything we do, both on and off the track, on our single ambition: to win.
Invention is the key to achieving that ambition. It's about seeing an opportunity and being the first to optimise it and bring it to production. Because if we don't, someone else will get there first. That is the uncomplicated secret that drives us to do things better.
But winning doesn't always mean following the traditional path. We've fostered a culture of daring to try new things by recognising that the best ideas often evolve out of failures. It's what led us 30 years ago to introduce full carbon-fibre construction to Formula 1, at a time when our rivals mistrusted it or refused to invest in it. It's what led us 20 years ago to use Formula 1 technology to develop our first road car, the McLaren F1; and it's what led us to launch Britain's newest car company, McLaren Automotive, which employs more than 700 people and supports a supply chain of dozens of high-tech British businesses.
As we ramp up to producing 4,000 sports cars every year by the middle of the decade, we've learned how to combine Formula 1 know-how with state-of-the-art production methods. We've brought technology and materials to the market that were previously seen only on cars costing three times as much as our McLaren 12C.
Our ambition to win has also taken us into new territory, such as prescription drugs research, air-traffic control and even the fitness and competitiveness of our sportsmen and women.
"We've dared to try new things by recognising that the best ideas often evolve out of failures"
Over the course of a race weekend, we capture more than a billion data points covering the performance and position of every car on the racetrack to pick the optimal time to make our pit stops in order to send our cars back out onto a clear track. Processing, understanding and acting immediately on the implications of this data are critical to our race-winning strategies. McLaren's data-processing expertise has enabled us to offer a solution to handling the data generated during the entire landing cycle of an aircraft – from the optimum approach pattern to the fastest journey to the gate, delivering and picking up passengers and then departing as quickly as possible. The same systems can be adapted to monitor the biometrics of a sports team as it trains or competes. We're already doing this with various British Olympic teams and several other sporting entities, using real-time monitoring to improve performance.
We're even using these monitoring and measuring techniques to expedite research into prescription drugs and in occupational health schemes that help employees to be healthier, happier and more productive, through our partnership with GlaxoSmithKline.
Education is crucial, too. At McLaren we're fully supportive of the move to encourage STEM in our schools and colleges, and have been a pioneer of the government's 'See Inside Manufacturing' initiative that has enabled school children to come to McLaren to be inspired by what they can achieve if they study STEM subjects at school.
Imagination goes hand in hand with innovation; using advanced technology to turn our ideas into quantifiable business success. That, I firmly believe, is the way forward for the UK economy.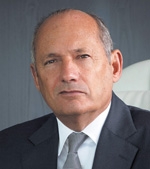 Career

1966 Starts working for driver Jochen Rindt at the Cooper Formula 1 team
1968 Moves to Brabham with Rindt
1971 Forms Rondel Racing with Neil Trundle
1974 Forms an F2 team backed by Marlboro
1978 Forms Marlboro Project Four, winning championships in 1979 and 1980
1980 McLaren takes over Marlboro Project Four, with Dennis in control
1982 Persuades Nikki Lauda out of retirement
1984 Lauda wins F1 world championship; McLaren wins the constructors' championship. Further victories follow
1998 McLaren produces its first road car, the F1, designed by Gordon Murray and Peter Stevens
2009 Stands down as McLaren team principal to concentrate on road cars
2011 Launch of McLaren Automotive and its first car, the MP4 12C; opening of McLaren Production Centre to build further sports cars