A row of long, cigar shapes is lined up in the warehouse, emblazoned with military symbols against its grey flanks, the colour of storm clouds. Alongside them is a stack of long, flat containers, each one featuring a pair of wings. These are Watchkeepers, the army's newest surveillance tool unmanned aerial vehicles (UAVs) designed to keep tabs on situations ahead of troops for planning and strategy. And they were built by engineers better known for designing and making racing cars.
Based in Cambridgeshire, Lola is one of the best-known names in motor racing, with more than half a century of heritage on the race tracks. It has been part of the Formula One (F1) fraternity; it has built racing cars for Paul Newman's IndyCar operation; and it is currently one of the leaders of the pack for endurance racing, currently holding the constructors' title in two classes (Le Mans Prototype 1 and 2), and with five wins of the 24-Hour Le Mans race since 2000.
And yet, for more than a decade, Lola has been branching out from its motorsport background. Today, some two thirds of its revenues come from other sectors, notably aerospace and defence. The company exemplifies the concept of the UK's unique motorsport industry using its expertise to boost other sectors and has been part of this trend for almost 15 years.
The diversification was triggered by what, for many motorsport companies, would have been a catastrophe. Lola's last years in F1, in the mid-1990s, were financially crippling. Company founder Eric Broadley, who started the firm by building a racing car for his cousin to drive in 1957, sold Lola to Martin Birrane a businessman, a former racing driver and an all-round Lola enthusiast (he owns a collection of classic Lola cars and competes in historic race series).
'In a way, the terrible problems we had with trying to get back into F1 were a godsend for us,' said Paul Jackson, commercial director of Lola's composites division. 'Without that, we wouldn't have been able to start again with the strategy of broadening the range of industries we serve.'
Jackson's job is to continue the company's branching out, building up long-term streams of work with a range of customers. 'Obviously our heritage is in motorsport, and we're not abandoning that, by any means,' he said. Indeed, the large number of parts for racing-car bodies and chassis around the site are proof of that, as are the four racing cars that dominate the foyer of the Huntingdon site; moreover, the company's current big project is the design and manufacture of the new all-electric racing car for Drayson Racing. 'But we're building up elsewhere, specifically in the aerospace, defence, communications and renewables sectors,' added Jackson.
Obviously our heritage is in motorsport and we're not abandoning that by any means

Paul Jackson, Lola Composites
Lola's list of partners, and the projects with which it is involved, is indeed a broad one. For Watchkeeper, it is working with Thales and Israeli firm Elbit Systems. It also frequently works for and with BAE Systems on UAV projects such as MANTIS, the experimental unmanned combat vehicle, and the intercontinental stealth UAV Taranis, as well as on an unmanned underwater vehicle called Talisman.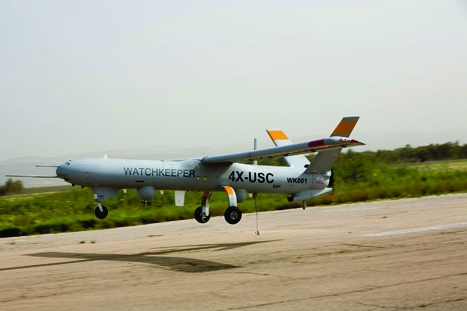 Other aerospace clients include Bombardier, for which Lola develops tooling.
Communications work is becoming increasingly important, according to Jackson. 'This is basically utilising our expertise in composites to make lightweight structures,' he said. The company makes the spherical radome for the Samson radar system on the Type 45 destroyers. 'BAE Systems wanted something that was originally metallic and very heavy to be lighter, so we've come in and done a composite design to give it a lightweight, maintainable structure.'
One of the company's biggest recent jobs was to make the gondola structures for the long-endurance multi-intelligence vehicle (LEMV), a hybrid heavy-lift airship that is currently being developed by UK company Hybrid Air Vehicles along with major US aerospace firm Northrop Grumman. 'LEMV is very important to us,' said Jackson. 'We did the complete design, tooling and all the parts for the gondola structure, including all the structural analysis and the manufacture; we also made the housings for the thrusters.'
The LEMV project came to Lola because of its motorsport heritage and the skills that has given the company, according to chief aerodynamicist Phil Tiller. 'We can analyse data, make decisions and make a new part very, very quickly,' he said. 'For LEMV, we designed and built the components within a year pretty quick for a new aircraft, and it was a massive undertaking. The gondola is 40m long and it was so high we had to put a new door on the facility to get it out. We had to make it in three parts and assemble it at the customer's headquarters it couldn't be transported easily in one piece.'
We can analyse data, make decisions and make a new part very, very quickly

Phil Tiller, chief aerodynamicist
Jackson said this high-speed design, analysis and manufacture cycle is very different from the way defence contractors generally work. 'People [from companies] such as BAE Systems have found it refreshing to come to us,' he explained. 'We tend to drive our customers forward. We're not used to having things hanging around; we're used to solving technical issues and getting them out the door.'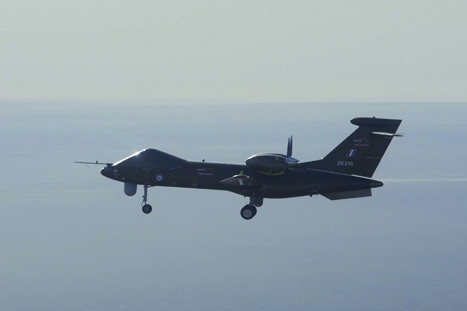 The way that Lola works with defence clients is changing, added Jackson. 'We're coming in more at the front end, interfacing with the customer's design team so that it designs something that's manufacturable. It might have a shape in mind and we'll work out how to make that shape, keeping in mind things such as cost and the complexity of parts. We don't have F1 budgets and we build our own cars to a tight budget, and we take that discipline over into other areas.'
But, according to Tiller, there's not much difference between a motorsport project and an aerospace or defence one. 'We make carbon-fibre structures. They need good basic design and knowledge of composite materials, and the manufacturing processes need to be understood,' he said. 'They all have certain constraints. You've just got different criteria it's the rulebook for racing cars; it's the legislation and regulations for aircraft. The levels of resource differ, and you've got to spend those as best as you can. But if you can make a body part for a Le Mans Prototype [LMP] car, you should be able to make the equivalent part for an aircraft, whatever shape it is.'
Despite the breadth of the projects the company works on, Lola feels very much like a motorsport company. There's no demarcation between a 'motorsport team' and a 'defence team'; all the engineers, designers and technicians work across all the projects, and you're as likely to see the wing of an LMP car on a computer screen in the design office as you are the tailplane of a UAV. Yet the motorsport heritage of the company is inescapable large pictures of Lola's current and historic cars line the walls.
For managing director Robin Brundle (brother of F1 commentator and former driver Martin), this helps keep the company focused on the skills needed in motorsport, which are, in turn, so prized by others. 'In each of the specialised areas, we have a multi-capable, multi-skilled set of people,' he said. 'They can transfer their skills across each of our target sectors. So we can select any one of a group of people to work on any project. Many businesses lose agility when they have silos of people. The beauty of having this mixed talent is that we don't have that problem.'
Lola's technology 'roadmap' is focused around motorsport but has applications across all of its sectors, said Brundle. 'We have a clear business direction and we streamlined our roadmap a year ago to be more focused.' The Lola-Drayson electric racer, for example, is a showcase for many technologies with potential elsewhere. 'The car has moveable aerodynamics, which cuts the drag by about 30 per cent,' he said. 'That will transfer to the renewables sector in the coming years.'
Structural batteries represent a way to build power storage into the vehicle as an alternative to lithium-based batteries, avoiding the problems implicit in the use of volatile, explosive, flammable lithium. 'Structural batteries are made out of honeycombs of carbon fibre, filled with a solution that gives them the energy storage capacity of a battery,' he continued. 'If it's damaged, it'll continue to function as a battery, albeit with loss of capacity. It's lightweight, it's very strong and it's durable. We're working on this with BAE Systems; the power output won't replace lithium at the moment but we're working on that.'
We've retained the capability for Formula 1; we can do everything in one building

Robin Brundle, managing director
The advantage of structural batteries is they can form any shape. 'We could make the wings and fuselage of a UAV out of them,' said Brundle. 'We could make the monocoque and chassis of a road car.'
Brundle is, without doubt, a motorsport man to his bones. 'Motorsport is a third of our business, and we're happy to expand in any direction,' he said. 'Within five years, we expect to top £50m in turnover; we're on schedule to hit £25m this year. But an F1 programme will take us up by tens of millions.' The company is 'ready and waiting' to re-enter F1, added Brundle. 'We've retained the capability. We can do everything in one building, and we're hopeful that if the FIA bring back the 13th licence we can bid for it. We'd need to finalise an engine partner so we can design the back of the car when the new engine regulations come in in 2014, but we're ready for it.'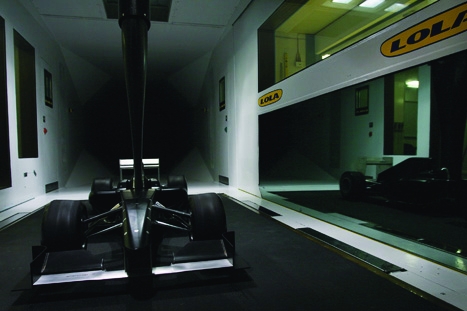 In the meantime, the UAVs are getting ready to roll from the manufacturing facilities. Jackson is matter of fact. 'UAVs?' he said.
'For us, they're flying racing cars.'
In depth
The matter in hand
Skilled craftspeople manually build up the carbon-fibre composites layer by layerMany of the structures made by Lola are effectively hand built, with skilled craftspeople carefully building up the carbon-fibre composites layer by layer. In the heavily automated world of car manufacturing, it's a surprise to see so much hand work going on at Lola. But, according to Paul Jackson, it's a blend of high technology and hand skill that makes the parts.
'We have two five-axis milling machines, which are very important,' he said. 'We use those to make the female tools the moulds that the parts are built on. Those are based on the client's, or our own, CAD designs, and we do the tool design and manufacture ourselves.'
The lay-up staff are given the tool a three-dimensional negative of the part and a make-up kit, containing all the composite material they need to build the part, as well as a manual, showing how it all fits together. The composite is generally pre-preg that is, fibres pre-impregnated with uncured resin. It handles like thick, stiff fabric.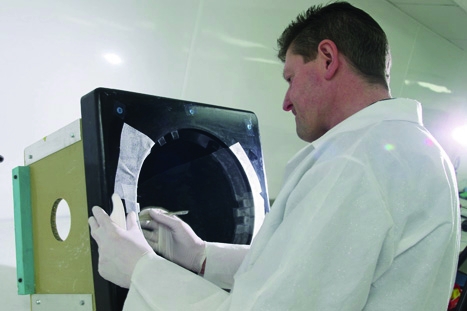 Each aspect of how the part fits into the mould is described in the manual, including the orientation of the fibres and how adhesive should be applied. Some parts are multilayer, with one or more layers of immensely strong but lightweight carbon fibre between the layers of laminate; radomes for communications and radar tend to have this structure, as do chassis for racing cars. Some have fewer layers. Lay-up times vary from a day or so to around a week.
Once they are assembled, the parts are cured, still attached to the tools. 'We put the whole thing into a plastic bag and suck the air out, and keep pulling a vacuum while they're in the autoclave,' said Jackson. 'That pushes the composite into the mould and keeps the shape.'
The shape of the parts and their structure is designed using computational fluid dynamics, data from wind-tunnel testing and finite element analysis. 'We represent the part ply by ply, effectively laying up the part in the computer,' said composite designer Ed Collins.
'We input data that we get from testing carried out on little coupons of cured material, and we have software called Laminate Tool, which contains details on how the material drapes in the mould. Every group of elements has a different property, relating to sequence of plies, orientation and strength in different directions, and that allows us to get an accurate map of how each piece will behave in, for example, a crash.'