Over the weekend Detroit Electric used the Shanghai Motor Show to unveil its new high-performance electric sports car, the SP:01, to the public.
The company claims the limited-edition, two-seat pure-electric sports car 'sets a new benchmark for performance and handling in the electric vehicle (EV) segment.'
It certainly looks the part (see below) and stats provided the company appear to back its claims of being the world's fastest pure-electric production car: 0-62mph in 3.7 seconds and a top speed of 155mph, performance metrics attributed largely to the vehicle's power-to-weight ratio.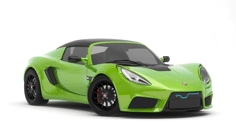 The company further claims that the rear-wheel-drive SP:01 features a compact, mid-mounted 201bhp electric motor (delivering 166lb ft of torque), a lightweight, purpose-designed battery pack and all-new carbon-fibre bodywork.
With prices for the car starting at $135,000 its probably fair to say that the chances of seeing a SP:01 outside of a motor or TV show are pretty slim.
A report published today suggests that EVs and other low-emission vehicles at the more affordable end of the market are a long way from becoming ubiquitous on Britain's roads.
Entitled Powering Ahead, the report was commissioned by the RAC Foundation and the UK Petroleum Industry Association to examine the relative merits of major fuels and powertrains in delivering the UK's greenhouse gas reduction targets over the coming decades, and assess each technology's market potential.
Forecasts differ, with some analysts expecting between 40,000 and 200,000 plug-in hybrid and pure battery powered cars sold each year in the UK by 2020.
Ricardo-AEA took this into account, analyzing predictions made in 14 major studies for the take-up of low-carbon cars. After discounting the most extreme projections, Ricardo-AEA found differing assessments for the scale of green car sales in 2020.
The report says, 'The speed with which plug-in hybrids and pure electric vehicles achieve significant market shares is highly dependent on their total cost of ownership in comparison to that of more conventional alternatives. This is, in turn, dependent on factors such as oil prices, further battery and fuel cell cost reductions, and government policies.'
In a statement, Prof Stephen Glaister, director of the RAC Foundation, said, 'It is more than two years since the government introduced the plug-in car grant. Yet even with subsidies of £5,000 per vehicle available only 3,600 cars have been purchased through the scheme.
'This report concludes that the key to making electric cars a commercial success is a major advance in battery technology. Until then these vehicles are likely to remain too expensive and too impractical to penetrate the mass market.'
Furthermore, Chris Hunt, director general of UKPIA believes around 60 per cent of vehicles in 2030 are likely to be powered - in full or in part - by internal combustion engines.
Its interesting to note the varying arguments that arise with regard to greenhouse gas emissions (regardless of their source) and the wider climate change debate. I'm not going to open that can worms right now, but you can read my colleague Stephen Harris' views on one area of the debate here.
I'm more confident that consensus may be found when assessing mankind's environmental stewardship of space.
The launch of Sputnik 1 in 1957 was the first of around 4,900 launches that have led to approximately 23,000 objects larger than 5-10 cm orbiting Earth at speeds of 25,000km/h. These in turn present a hazard to satellites still working in space.
Help is at hand, however. Last week The Engineer reported on how Astrium has developed a new way to capture large items of space junk and pull them out of orbit using a harpoon and tether.
This week sees the 6th European Conference on Space Debris being held at ESA's European Space Operations Centre in Darmstadt, Germany.
The organisers say the objective is to discuss the latest findings, policy approaches and technical options to cope with the increasing risks of space debris with special sessions devoted to active debris removal.
Thursday's session is going to be streamed live. Click here for more information.