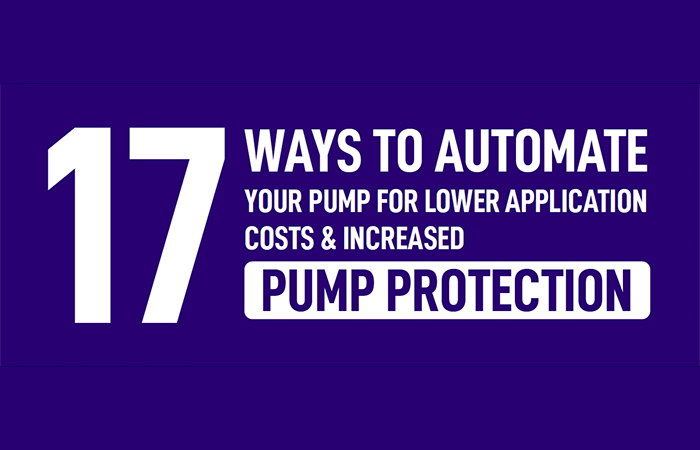 AMP DRAW
The current drawn can be set within a control panel to certain limits to detect when a pump is dry running, running end of curve or cavitating. This helps limit any damage when a pump is left unattended.
BYPASS VALVE
A bypass valve both on the pump and discharge pipework will help protect the pump should a nozzle be closed or discharge valve be closed preventing damage.
DRY RUN CAPABILITY
Pumps which are specified with dry run capability will mean you will not be concerned should the pump be left unattended. If a fluid which has a high amount of dry content you can rest assured it can be handled without damage to your pump.
DRY RUN PROTECTION
Dry run protection sensors can check amp draw, power absorbed, and be set up to measure inlet pressure, thus protecting the pump from dry running.
END OF STROKE SENSOR
An end of stroke sensor provides details of the number of strokes performed by a pump verifying normal pump operation. It also helps determine preventative maintenance schedules or for cycle counting in batching systems. This sensor is typically used in diaphragm metering pumps.
FLOAT SWITCH
A float switch is one of the most common ways to automate a pump in dewatering applications. When the floatswitch is raised above the pump, the pump will begin working as sensors within the float make contact when raised at specific angles. Then when the water level is lower than the pump, the contacts in the float switch detect the angle switching off the pump.
FREQUENCY DRIVE
When automating a process a frequency drive will often be specified as it can provide multiple functions enabling measurement of motor rpm, power absorbed, and have a torque sensor providing many of the features listed separately here in one unit.
LEAKAGE SENSOR
Leakage sensors can be built into diaphragm metering, AOD, and peristaltic pumps to detect when a pump is leaking and automatically stop the process. This ensures dangerous fluids do not leak creating hazardous areas, contamination, and pose health risks. It also allows fluids to be recovered if they are particularly expensive.
LEVEL PROBES / LEVEL SENSORS
Level probes and level sensors are typically utilized in applications where pumps may be dry mounted, or immersed in the fluid. Ultrasonic level sensors or infrared beams detect the height of the fluid stopping and starting pumps as required. They are used as an alternative to float switches which can get tangled or prove unreliable over time.
PRESSURE TRANSDUCER
Pressure transducers detect the pressure of fluid within a pipeline, causing a pump which is fitted with a variable speed drive to speed up or slow down to match the required performance.
PROBES
Level probes are conductive which work when in contact with a fluid. It allows pumps such as puddle suckers to pump down to a few mm, allowing complete emptying of low levels of water.
PRODUCT SENSOR
Our range of progressing cavity, peristaltic and lobe pumps can be built with hoppers containing product sensors. When product enters the hopper the pump will automatically start emptying the hopper before stopping again meaning your pump only works when product is available eliminating a manual on and off process.
REMOTE MONITORING
Remote monitoring devices with data loggers incorporated enables users to monitor pumps and when a fault occurs to determine the factors leading up to it. Flow, pressure, absorbed power and vibrations can all be monitored to create a condition based monitoring profile eliminating inspection intervals, meaning labour is spent on more productive activities.
STROKE COUNTER
Stroke sensors can detect the number of strokes performed by an air operated diaphragm pump, counting the number of times air is ejected from the exhaust which after completion of a set number stops the pumps. This method of transfer is known to be inaccurate for fluids which viscosity changes with temperature.
TEMPERATURE PROBE
On some designs of pumps it is possible to monitor the temperature of the bearings, and stator to detect when the pump is working over temperature meaning it can be stopped before damage is done caused by dry running.
TIMER
Pumps can be set via a control panel to run for a specified amount of time and stop. This is common in dosing, recirculation, transfer and injection applications.
TORQUE SENSOR
A torque sensor built into an inverter can detect when a positive displacement pump is working strenuously or outside its normal limits. With a torque sensor calibrated correctly over pressure build up in a discharge line can be stopped, and if coupled with a reverse switch the pump can be set to reverse and relieve pressure at the outlet.