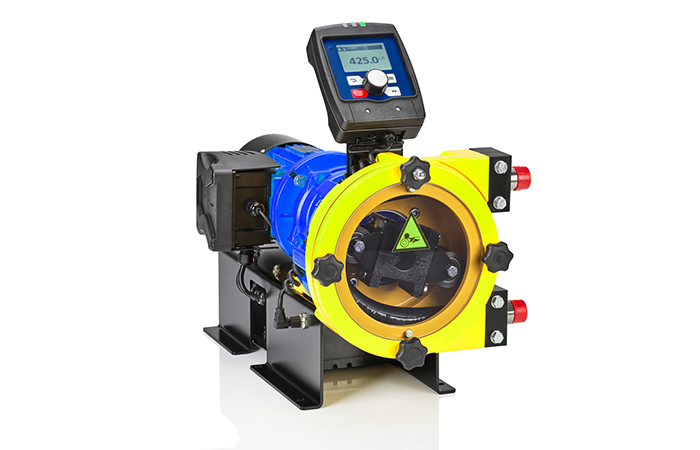 North Ridge Pumps are proud to annound the release of The AMP16 Control - an Intelligently controlled Peristaltic Metering pump with build in variable frequency drive (vfd). Its unique design enables precise metering of gaseous, viscous, and shear-sensitive media, containing particles with ease without the use of valves, or seals prone to blockage and wear.
As the unit utilizes peristaltic pump technology it guarantees precise, linear and repeatable metering in all process conditions. The unit is controlled via a 3" LED display with Keys and click wheel, with functions accessed via the built in menu. The unit can also be controlled remotely via BUS (profibus, profinet, canbus) as well as being IOT Capable.
The custom interface features built in machine learning enabling the unit to anticipate hose failure, preventing downtime, optimizing longevity and ensuring your process runs uninterrupted.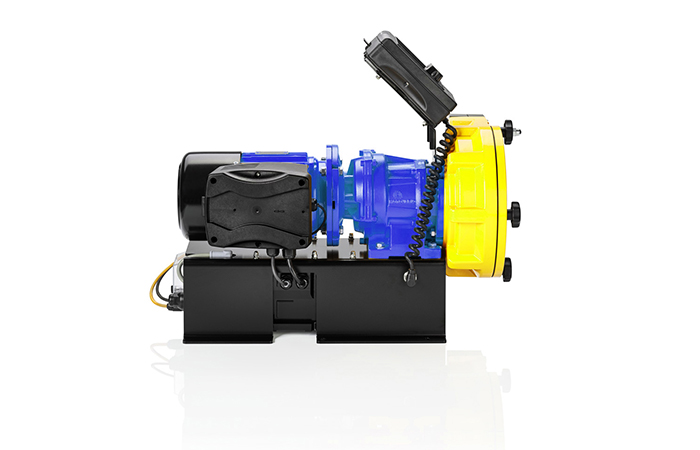 Upon first use the unit learns the operating characteristics, typical hours of operation, working duty and flows, detecting when the hose has leaked through its inbuilt leakage detection sensor. Once the hose has been replaced it notes the number of hours of operation which led to the failure, warning users as the unit approaches a similar time frame to replace the hose prior to failure.
The user interface not only displays current pump function but also assists users by guiding operators through hose replacement via the use of on screen instructions. The pump head automatically rotates into the correct position for hose replacement meaning users do not have to manually intervene.
Features:
Precise, linear and repeatable metering Gaseous of gaseous, viscous, and shear-sensitive media containing particles up to 40,000cst
Built in Machine learning anticipates hose failure, and proactively advises operators to replace hose prior to leakage optimizing longevity and preventing downtime.
Enables input of required final concentration, with volume-proportional metering to meet required concentration (concentration mode)
Automatic metering mode – volume settings only (l/h, ml/contact etc.)
Metering Repeatability: :±2% with retracted hose after 500 revolutions
Built in hose leakage detector
Dry Run Capable and Reversible
Visually Guided Hose Change
Single Component in contact with fluid –the hose means there are no seals, or valves to clog or wear.
Operation by contact, batch, manual, analogue or BUS control
Task Mode for volume proportioning, and timed metering.
Connection to process control systems via a BUS interface, e.g PROFIBUS®/Profinet /CANbus and IOT Capable
Typical liquids: Sulfuric acid, hydrogen peroxide, chlorine, sodium hypochlorite, flocculants, coagulants polymers and other chemicals.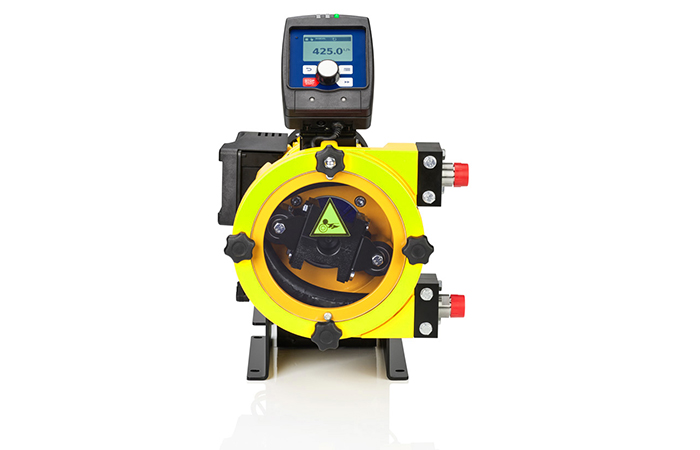 Applications:
Chemical – Metering & Injection of Chemicals
Food and Beverage- Flavourings, Colourants, and Shear Sensitive Liquids
Mining –Polymers, Additives, Flocculants and Coagulants
Paint – Metering of Solvent, Oils, Tint, Resin or Pigment
Paper –Additives & Polymers
Plastic – Additives & Polymers
Potable Water –Disinfectants, Flocculants & Coagulant
Waste water industry  - High viscosity products, Polymers, Flocculants & Coagulants
FAQ
Why choose a Peristaltic Metering?
Peristaltic Metering pumps offer various advantages over other designs. Due to its simple single hose design, it enables the precise metering of gaseous, viscous, and shear-sensitive media, containing particles with ease without the use of valves, or seals prone to blockage and wear.
How does a peristaltic metering pump work?
The pump head contains a single hose and two rollers spaced at 180° intervals. As the pump head rotates, the rollers compress the hose moving fluid from the inlet to the outlet. Such designs ensure full containment of the process fluid, as well as being reversible incase fluid recover is required.
How is the pump calibrated?
The pump is calibrated at manufacture stage. The design ensures metered amounts are within 2% accuracy. The amount to be dispensed and operating pressure is controlled via the screen and built in vfd.