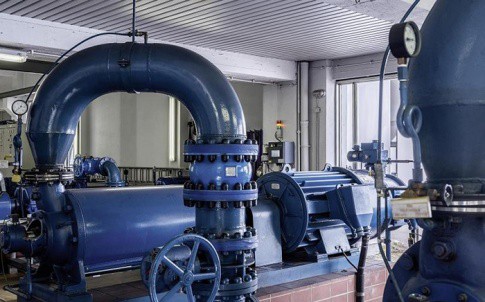 Schaeffler offers expandable complete solutions for Predictive Maintenance 4.0 with components, systems and digital services for the monitoring and lubrication of a wide range of machines. The Perlenbach water supply association also relies on solutions from Schaeffler when it comes to pump maintenance.
At the Hannover Messe 2018, Schaeffler will present intelligent solution packages for machine monitoring and lubrication, illustrated using reference projects. One such customer is the Perlenbach water supply association, which supplies fresh drinking water to around 50,000 residents in seven municipalities of Germany's Eifel region every day. Ensuring fault-free, reliable operation would mean manning and monitoring the association's facilities 24 hours a day, as bearing defects in the centrifugal pumps could cause them to fail and compromise the security of the water supply. Perlenbach therefore decided to utilise a system that would continuously monitor and lubricate the machinery. In Schaeffler, the water supply association found an expert partner to help implement a Predictive Maintenance system.
Condition monitoring in plain terms
Together with the Concept8 lubricator, the preconfigured SmartQB condition monitoring system from Schaeffler ensures fault-free operation. This standalone complete solution detects irregularities in electric motors, pumps, fans and the rolling bearings that all of these rely on. The SmartQB identifies the potential cause of failure – whether it's bearing damage, imbalance, friction, temperature increase, or changes to the vibration pattern – and gives a clear text notification of the findings. The integration of the system, which was developed in partnership with Mitsubishi Electric, into the control room visualisation means that maintenance staff are informed of incipient damage at an early stage and can immediately initiate maintenance measures and procure any replacement parts that might be needed. As Joachim Dankwardt, deputy manager of the water procurement/treatment department at the Perlenbach water supply association, is well aware: "For us, condition monitoring means a secure supply."
No previous knowledge required
A major advantage of the solution is that the SmartQB is a preconfigured plug-and-play system, which makes it very easy to put into operation. "Conventional systems for machine monitoring are costly and complicated. In contrast, the SmartQB is so easy to use that our employees did not require any specific knowledge of vibration diagnosis. We were able to start right away," reports Mr. Dankwardt. The electrical specialists on site were able to connect the SmartQB directly to the control system and the emergency telephone equipment.
Requirements-based relubrication
The last pump failure to occur at Perlenbach was caused by over-lubrication of a bearing. Schaeffler counteracts this problem with its Concept8 lubricator, which precisely supplies up to eight lubrication points with the correct quantity of grease. Insufficient lubrication or over-greasing and the resulting damage can therefore be prevented. The power supply to the lubricator is coupled to the pump, which means that lubrication only takes place when the relevant pump is actually running.
This complete solution from Schaeffler, which combines condition monitoring and requirements-based relubrication, allows maintenance work to be scheduled well in advance. This means that customers can sustainably optimise their maintenance processes and increase the availability and productivity of their machines and equipment.