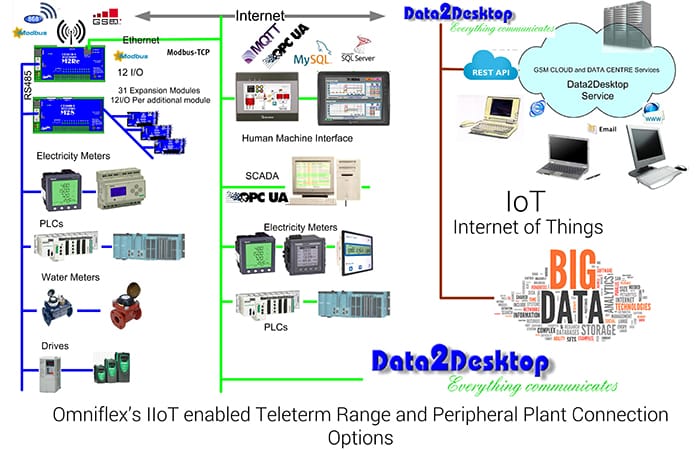 Omniflex specialises in 'out-of-the-box' remote monitoring solutions based on years of industrial plant networking experience, from last mile connection to mainstream Ethernet backbones. The Teleterm range specifically addresses the remote outstation issue by providing a programmable platform of IEC61131 languages, for control and networking options from low grade cable to radio and GSM infrastructure. Wireless distributed PLCs with inherent data acquisition capability are an attractive proposition against cable-based systems.
HMI systems can link easily with SQL databases, Use MQTT and OPC UA to integrate into larger MES system with links to big data. Visualisation can be wireless also, through the use of WiFi and a tablet for a portable operator interface or management tool linking into the system without having to use fixed desktop computers. Remote site visualisation is achieved the same way, using a tablet and remote Teleterm devices and local routers integrating via the Internet.
What to look for in an IIoT solution
1. Security from hackers.
2. Interoperability with existing legacy devices (PLC and scada etc.).
3. Scalability: add to the solution easily.
4. Precision and accuracy: industrial grade measurements.
5. Programmability: process local data at front end.
6. Low latency response to system changes.
7. Reliability: industrially hardened products for harsh conditions.
8. Resilience: failure mode coverage.
9. Automation: function as a connected automation block, not just data acquisition.
10. Serviceability: plug-and-play replacement, service and support.
Features of the Omniflex solution
Wireless capabilities: licence-free band radio RTUs and wireless PLCs; WiFi and HMI solutions; GSM IIoT RTUs and PLC units; repeater solutions; Internet-based monitoring; and email, SMS and data transmission.
Teleterm Features: flexible mixed configurable I/O (analog and digital); Ethernet and wireless ports; programmable serial port; local logging on SD cards; DIN rail mounting: 9-30 VDC powered; and Modbus/Modbus TCP as standard.
Big data connectivity: MQTT capable; SQL database compatible; OPC UA compatible; and REST API interface.