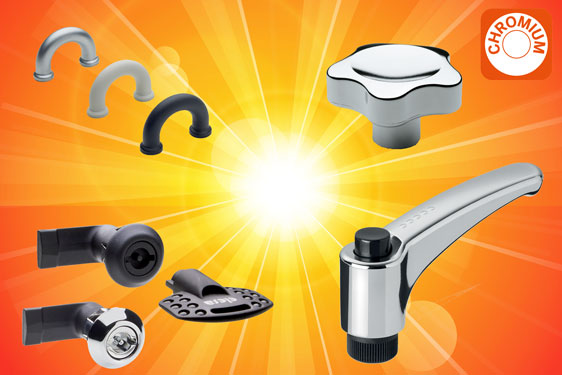 Elesa's new chrome-on-technopolymer plating process facilitates cleaning on machines and equipment in hygiene zones, e.g. with water jets or steam. Chromed lobe knobs, adjustable handles, quick-fit latches and finger pull handles are all available in this hardwearing finish, matched to cavity free designs to prevent build-up of biological detritus and speed wash-down cycles.
Chrome-finished grip knobs in the VC range of industrial handles and knobs for medical and food processing equipment are particularly suitable for special applications. These are matched with the ERX-CR series of adjustable clamping levers, also chrome plated for additonal protection and improved wear characteristics. The ERX-CR offers easier operation in confined spaces with push-button locking action which provides ratchet effect tightening and quick release.
Quick-assembly CQT.FM quarter-turn latch hardware is also available in chrome finish with sealing to IP65 and V0 certified to UL-94. These quick-fit quarter-turn latches with keys, push-to-fit into 1mm up to 2mm door panels in a single operation.
Completing the chrome plated set are MFH finger handles. These fixed pull handles are also available in semi-gloss chrome-plated technopolymer for use as door pull handles. MFH plastic mini bridge handles are available in black, orange, grey, red and white clean area finish for use on drawers, doors, machines and laboratory equipment.