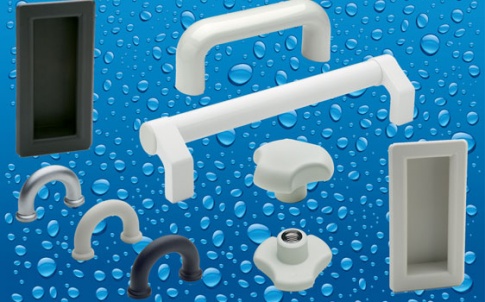 CLEAN line clamping knobs and pull handles from Elesa have been developed especially for applications on medical and hospital equipment and for use on food processing machines, whose parts for hygienic reasons, must be frequently cleaned. The solid shape of these standard elements are designed without cavities to prevent accumulation of unhealthy residues and to enable easy cleaning.
These CLEAN products are produced in white finish for ease of inspection and cleaning, as well as aesthetically blending into their environment.
The range includes VTT clamping knobs with AISI 304 stainless steel boss, and MFH finger pull handles which are ideal for drawers and light action doors. Where more leverage is needed then the ERB-PF flush fit pull handles or M.843 bridge/pull handles provide a secure grip for the whole hand. In the event that grip with both hands is required – or as a handrail support – the RH-W1tubular grab handle offers a CLEAN solution.
Further information regarding Elesa CLEAN line products may be found at: www.elesa.com/en/elesab2bstoreuk/high-performing-items/clean or follow them on twitter: www.twitter.com/ElesaUK.