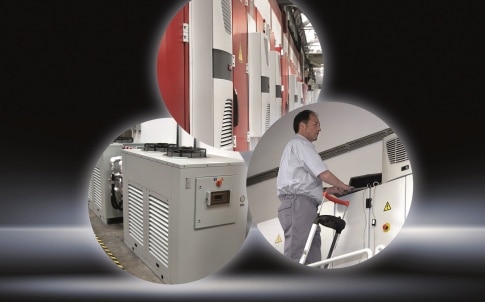 The Blue e+ climate control system from Rittal addresses common problems of panel builders, systems integrators, original equipment manufacturers and end users alike.
As well as being far more energy efficient than existing cooling systems, the Blue e+ has been designed to deliver greater flexibility, safety and ease of handling.
Key to the efficiency of the Blue e+ is Rittal's hybrid system, which uses a combination of a compressor cooling device and a heat pipe to take maximum advantage of passive cooling.
As a consequence, energy savings have been up to 75 per cent better than conventional units – a major incentive for manufacturers seeking to minimise steep rises in energy prices.
The system will be on display at Rittal's stand (M169) at Maintec 2017 (21-23 March, at the NEC, Birmingham.
Anyone keen to improve the long-term health of their systems can talk to Rittal's expert team on the stand. These discussions might range from possible remedial action if equipment is  overheating, tripping or failing, to optimum service programmes for maintaining systems' viability throughout its working life.
For example, running manufacturing automation systems consistently at high temperatures will have a major negative impact on the system's performance, reduce its service life and raise potential safety issues. These may lead to a loss of production, costly equipment replacement/repair and health and safety issues. All of these factors are preventable with the correct action.
A Rittal RiAssure3 survey will identify the likely risk of a system overheating that could lead to equipment tripping or failing. It will then provide recommendations around remedial action – for example, changes to the system's service and maintenance regime to help improve its efficacy or the need to invest in different climate control technology.