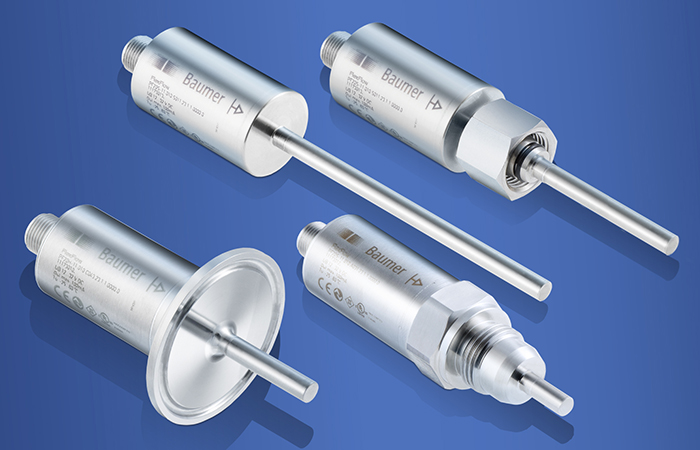 Maintaining competitiveness in today's dairy processing industries depends upon a combination of factors including; the degree of automation, efficiency of production, hygienic design, effective cleaning and, ultimately, food safety. Like a fine balancing act, the dairy processing industry treads a thin line between food safety and equipment efficiency. With the likelihood of there being a strong focus on improving the efficiency of the process, sensors are now playing an increasingly important role.
Sensing and instrumentation specialists BAUMER develops sensors together with customers to meet their specific requirements, a good example of which is their flow and temperature sensors for filter monitoring applications in the dairy industry. Today, many foods such as yogurts, milk drinks and quark are enriched with additional protein and these protein-rich foods are claimed to have nutritional benefits to support the build-up of muscle. This is why sportsmen and women frequently use additional protein powders and shakes, the production of which can be optimised if filtration processes are monitored using the right sensors.
A good example of this is at Homann, part of the Müller Group, manufacturers' of a wide range of dairy products including yogurts, milk drinks, mayonnaise and salad dressings. Sensing and instrumentation specialists BAUMER have helped Homann in achieving their goal of maximising process optimisation in their production processes, thanks to the features and benefits of their monitoring sensors.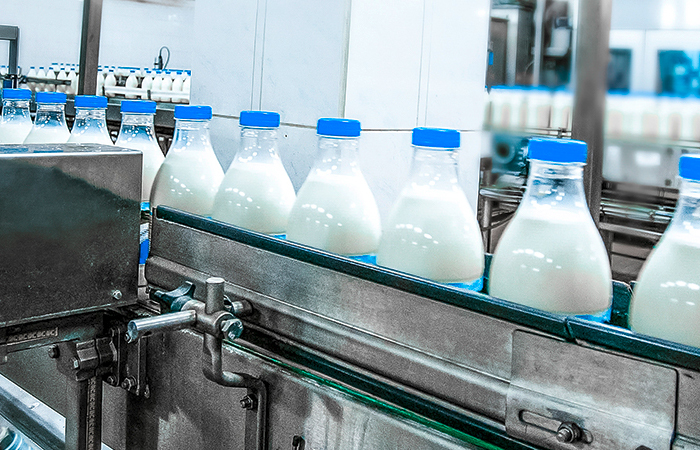 The basis for proteins that can be used for food fortification is provided mostly by whey or skimmed milk and these need to be filtered step-by-step in order to increase protein concentrations. The objective is to obtain a concentration with as high a protein content as possible which is then dried and further processed.
This process is very energy intensive and its effectiveness largely depends on the condition of the filter. Calorimetric flow sensors can facilitate the monitoring of the condition of the filter which helps to optimise the quality and cost-efficiency of protein extraction.
One Sensor for Flow Rate and Temperature
Cross flow filtration technology is usually the preferred option for filter units used in the dairy industry, typically to increase the protein content in milk or whey where the media, the so called 'feeds', are pumped through filters until the remaining concentrate reaches the desired dry mass.
An indicator of the effectiveness of the filtration pumps (and therefore the filtration process) is usually a combination of temperature and pressure measurement. The pressure differential of the measured values before and after filtration means conclusions can be drawn about the effectiveness of the filter, such as clogging. However, wouldn't a better and more direct option be, to measure the flow rate of the medium to know for sure how the filtration process is working? For example, if the flow rate is too low, the filter clogs up faster and needs to be cleaned or replaced. When module batteries are connected in parallel, shifts and variations in flow patterns are a problem. If the flow rate is too high, the permissible pressure loss per module is exceeded and the modules telescope.
At the same time, temperature is an important factor to consider when filtering. For example, when temperature is selected at approximately 122ºF this favours filtration without denaturation of the thermo-sensitive whey proteins which means that process temperatures must also be monitored.
Thermal flow sensors, such as Baumer FlexFlow sensors are an effective, viable and cost-effective solution for filter monitoring, as they measure not only the temperature, but also the flow rate. Since these sensors benefit from having no moving mechanical parts, they are virtually maintenance-free and allow for reliable monitoring of the cross-flow filters for many years. The Baumer FlexFlow family of flow and temperature sensors represents one of the most extensive ranges of process sensors. Based on the calorimetric measurement principle, these sensors can monitor both flow velocity as well as media temperature.
They have IO-Link and, depending on settings and connections, either two switching outputs, or one switching and one analog output (4-20 mA/ 0-10 V). The PF20H and PF20S versions are suitable for hygienic and industrial applications.
The combination of two measuring functions in one sensor reduces the number of measuring points in closed systems and minimizes costs of installation, service and storage. Thanks to their symmetrical, centered design, the sensors can be optimally installed in the process independent of their installation position and orientation to guarantee precise measurements and process safety.
Several sensors can be simultaneously configured via IO-Link which simplifies switching point adjustment for different process stages during set-up or batch changeover and also saves time. Diagnostic data polling and evaluation is possible at all times, increasing system uptime.
FlexFlow sensors have a robust, stainless steel housing with integrated electronics and evaluation unit which eliminates the need for complex wiring and control cabinet assembly. Additional user interfaces, are therefore not required which simplifies operation and allows for efficient process management. All models are temperature resistant to 150°C and thus CIP (Clean-in-Place) and SIP (Steam-in-Place) capable.
Conductivity measurement in CIP processes
Just about every cycle in dairy products processing requires CIP and this reproducible process must precisely define detergent dosing, regardless of pressure and or temperature variations. At Homanns' CIP installations in Bottrop, dosing needed to be improved and Baumer's new CombiLyz conductivity sensor was the solution. Thanks to fast response time it ensures precise measured results at a maximum deviation of < 1%. The measuring connection of the inductive sensing element provides a 6.6 mm wide channel which will tolerate fabric or solid-containing media and this has helped Homann to optimize detergent dosing and reduce raw material costs.
According to Frank Piatkowski, Application and Process Engineer at Homann, ".Baumer's CleverLevel is the one-sensor solution for different media and since deploying these sensors, we have seen a significant reduction in technical malfunctions". He confirmed, "Baumer products will be part of our considerations when we invest in new, state-of-the-art CIP installations and we appreciate that these innovative sensing solutions help us achieve our objectives of optimization, despite the increasing complexities of our processes".
Find out more at: https://www.baumer.com/gb/en/solutions/dairy-industry/a/Dairy
Tel: +44 1793 783839             email:  sales.uk@baumer.com                        www.baumer.com/gb/en/