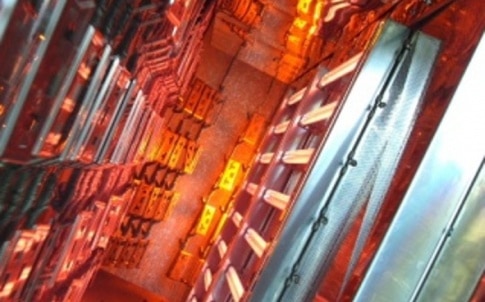 Some components, such as electronic components and plastics, will not tolerate heat for very long. This provides an ideal opportunity for infrared heat, which can transfer a great deal of energy in a short time to precisely where it is required. The production equipment, the ambient environment and the rest of the product can consequently remain relatively cool.
SSK Products in Telford, Great Britain, manufactures electrical sockets and switches, which are coated in a range of coloured paints or in metallised lacquer finishes. These must then be perfectly dried before final assembly, packaging and dispatch. Because of increasing demand for the company's products, a new production line was installed and it was realised that the speed of the line was very much dictated by the speed of drying. After carrying out a series of tests, it was decided to incorporate an infrared system, as this was faster than the hot air alternative, required less space and was easier to control.
As a result, an infrared drying system from Heraeus Noblelight is now helping SSK Products to realise the full capacity of its new production line. In addition, the infrared system has proved to be extremely energy saving, as, unlike the hot air oven, it needs to be switched on only when direct heating is required. Modern infrared modules  are so compact that they can easily be retrofitted into existing ovens or can complement existing ovens. An example is the infrared booster, which can be located in front of a hot air oven to speed up the process.
For complicated components, hot air heating and infrared can be combined to advantage. The infrared emitters provide the direct heat while the heat from the hot air oven seeks out all hidden nooks and angles. Modern infrared emitters can be perfectly matched to product and process in terms of wavelength, power and emitter shape.