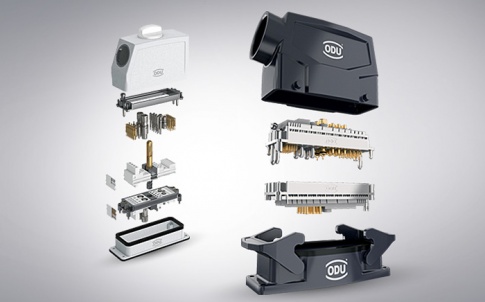 ODU's flagship product, the ODU-MAC with its well-established spindle-locking,   is now also available in sizes 2 to 4, all meeting tightness class IP65.
This robust metal outdoor connector with its ergonomic quick-release fastener therefore opens up new fields of application, as the ODU-MAC® can now be used in the smallest of spaces - but with a unique locking system that retains the highest degree of tightness.
This tight standard solution manages at least 30,000 locking cycles, which can then be further extended by replacing the spindle screw - easily and quickly done without dismantling the entire connector.
ODU's unique spindle-locking offers a compact, ergonomic design with high precision - compared to standard products on the market, locking and release are extremely easy and quick.
ODU now offers four different locking solutions ex-stock, enabling a rapid response for all requirements. The highest degree of reliability, greatest flexibility and depth of innovation – find inspiration in our nearly unlimited range of housings at:
https://www.odu-connectors.com/products-solutions/modular-connectors/