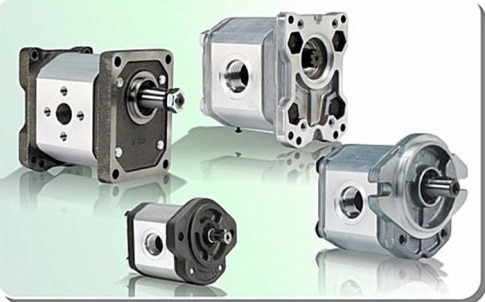 Convert hydraulic pressure and flow into torque and angular displacement, rotary mechanical power, applied to a load via the shaft.
We shall be presenting the range of gear motors available from jbj Techniques over the coming weeks starting with the Group 3 high pressure capacity gear motors.
Displacements from 22 to 87 cc/rev, inlet pressure 160 to 295 bar, outlet pressure 150 to 270 bar, speed 2000 to 3500 rpm, with a drain line pressure of 6 bar.
A robust construction robust thanks to the cast iron front flange and rear cover. These hydraulic gear motors have high overall efficiencies, normally above 90%. The product range is available in a wide range of mounting flanges and port sizes, to meet European and international standards including SAE and DIN. Teflon® coated shaft-bearing surfaces are available for long service life. These hydraulic gear motors can be supplied in single or bi-rotational formats and units are available with a comprehensive range of mounting flange and shaft options including specific designs to accommodate high radial loads.
A complete range of integrated relief valves and anti-cavitation valves to suit a wide range of applications are available as standard.
A variety of materials used within the construction process ensure suitability for a wide range of fluids and environments.