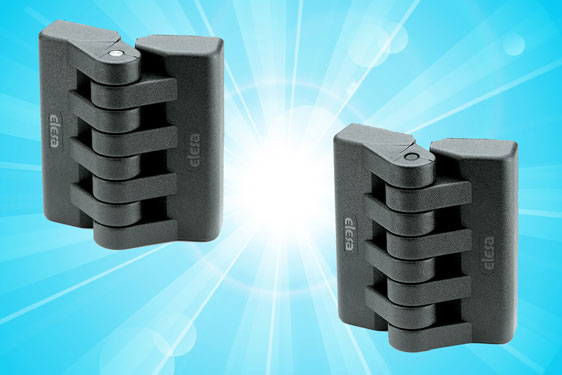 Elesa has introduced a range of technically well-thought-out and high-quality manufactured hinges with exceptional performance, such as the CFA and CFAX series 180° hinges.
Elesa has a long experience in design and injection moulding of hinges for enclosures, access panels and for steel and aluminium frame machine guards which means they are well placed to offer these multi-leaf 180° hinges in high-resilience polyamide technopolymer. The high strength mouldings present a wealth of fixing methods including integral bushes and/or studs for rear mounting, as well as pass through holes to suit a range of screw head types.
CFA hinges utilise an AISI 303 stainless steel hinge pin for maximum strength, while the CFAX with plastic pin is aimed at less demanding applications with a corresponding cost benefit.
Elesa's multi-leaf design makes optimum use of the material to ensure maximum rigidity, loading capacity and longevity for ease of installation and operation which are important factors in many industrial applications such as machine guarding.