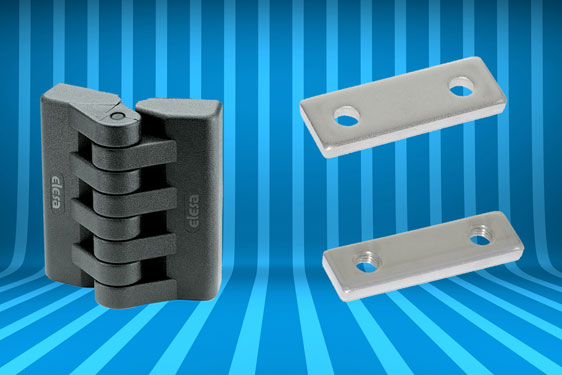 Elesa recently launched its new CFAX plastic hinge in high resilience polyamide technopolymer designed for enclosures, cabinets and machine access panels. The CFAX range offers wide angle opening (215°) and secure rear mounted fixing in a range of sizes (40mm, 50mm, 65mm).
They are notably rigid in situ which derives from their multi-leaf design especially matched to the material properties.
Alongside the CFAX are the PCM-TH and PCM-SP stainless steel door spacers for sister hinges from the CFM/CMM/CMM-SST and CMMY series, where they allow evening up of door/frame heights. Where the SP spacer has plain holes it permits stacking in thicknesses from 1mm to 10mm in combination, while the TH version with threaded holes permits the use of screws from either inside or outside the enclosure without the need for individual nuts. Both the TH and SP are manufactured in non-corroding AISI 304 stainless steel.