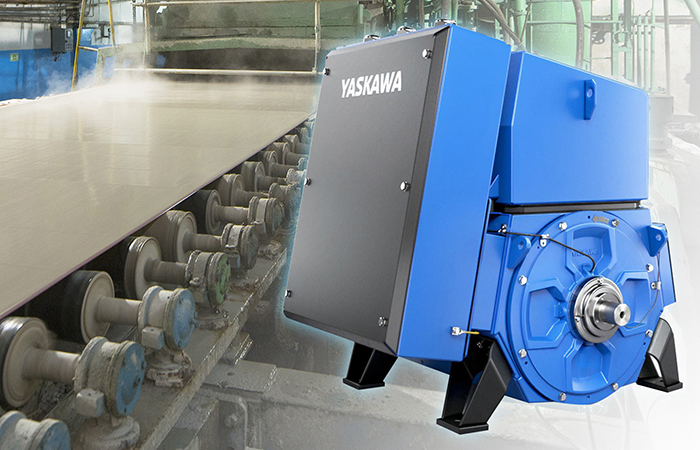 YASKAWA Environmental Energy / The Switch have delivered thousands of high-speed motors in serial production to several world leading manufacturers for their specialized turbo pump and compressors applications. Based on more than two decades of experience, the same technology is now introducing motors paired with drives, offering unrivaled cost and size advantages in powers of 300 kW to 1.5 MW and speeds of 6,000 to 15,000 rpm.
The age of the high-speed gearbox is slowly starting to fade because new and effective alternatives are being developed. For the first time, the superior technology presently available only for large-volume customers and high-end applications is now being offered as standardized packages, making the numerous advantages easily affordable for a wider range of high-speed applications.
The robust solid rotor motor eliminates the need for a gearbox, while allowing the application to reach higher speeds and availability. Mechanical problems associated with gearboxes are no longer an issue while fewer components also reduce the need for extra parts and maintenance.
Machine builders can enjoy high system efficiency due to the possibility of creating direct-drive solutions with this motor technology while the solid rotor construction provides high mechanical strength and stability. It is also more compact and lighter in weight, requiring up to 50% less space than a conventional design.
Each solid rotor motor is paired with a matching variable frequency drive to create a perfect package for ease of use. The application can take advantage of full speed control over the entire range, ensuring efficiency and energy savings of the system. 
CHEAPER TO BUY, CHEAPER TO RUN
According to Mikko Lönnberg, Head of Marketing and Business Development at Yaskawa Environmental Energy / The Switch, "Companies will realize that their initial investment cost is lower than purchasing a traditional gearbox and motor solution and in most cases eliminating gearbox losses will make the system cheaper to operate. We see this as a unique opportunity for all types of applications that can benefit from our experience with high-speed motors. This would include fans and turbo blowers, vacuum systems, turbo generators, compressors for industrial air gas and chillers as well as turbo pumps. Now, they can tap into our decades-long expertise and get an easily affordable solution to help them set new standards in their selected business area," Lönnberg continues. "We're also happy to work with customers in the future to customize a solution if their specifications require and since we have been successful with long-term joint development projects in the past, we're always pleased to continue."  
More details at:  https://theswitch.com/turbo/solid-rotor-induction-technology/
Further details available from Paul Seale:  salesuk@yaskawa.eu.com   Tel: +44 (0) 1295 272755   www.yaskawa.eu.com