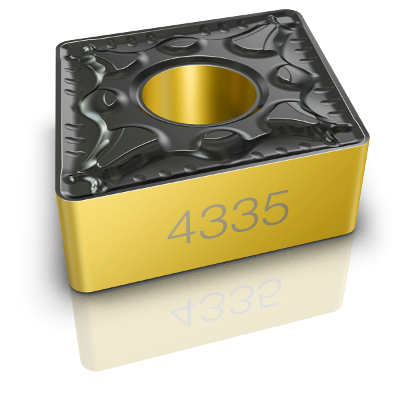 Cutting tool and tooling system specialist Sandvik Coromant has introduced its GC4335 insert grade for the turning of steels where unstable conditions or vibration issues prevail. GC4335 is designed to bring about secure and predictable machining, as well as shorter cycle times and better machine utilisation through reduced stoppages and longer insert life. Customers will benefit from an improved process with less risk of insert breakage, as well as reduced cost per component and faster return on investment.
GC4335, which features Inveio coating technology for maximum thermal protection, offers greater steel turning endurance through improved edge-line security in comparison with the previous-generation grade, along with greater resistance to flank wear, plastic deformation and crater wear.
"The new GC4335 is particularly suited for uneven forged surfaces, the turning of which can lead to frequent insert changes due to fatigue and failure," explains Bimal Mazumdar, product manager-turning. "Slowing down an operation to replace a broken insert means less production. When production is slower, fewer parts get completed per cycle and that affects overall profitability."
Among those set to benefit from the introduction of GC4335 are general engineering shops, as well as automotive OEMs and tier suppliers and subcontractors in the oil and gas sector. Typical components include tubes, valves, crankshafts, differential housings, flanges and rings to list a few.
Underlying reasons behind the performance of GC4335 include a new substrate that is well balanced between reliable toughness and resistance to plastic deformation. In addition, a new alumina coating delivers efficient heat transfer from the cutting zone to act as a heat barrier and the columnar MT-TiCN inner coating offers improved resistance against abrasive wear. A yellow TiN coating on the insert flank allows for easy wear detection.
To highlight the potential gains, an external face-turning application in dry cutting conditions saw GC4335 outperform a competitor insert on unalloyed steel (220 HB), delivering 3647 completed components in comparison with just 1980 (an 84 per cent increase). The time in cut for this finishing operation was two seconds per component, while cutting speed was 145 m/min (475 ft/min), feed rate was 0.4 mm/rev (0.016 in/rev) and depth of cut was 0.35 mm (0.014 in). Equally significant gains are achievable against GC4235, the previous generation insert grade from Sandvik Coromant.
The GC4335 assortment is available in T-Max P and CoroTurn 107.