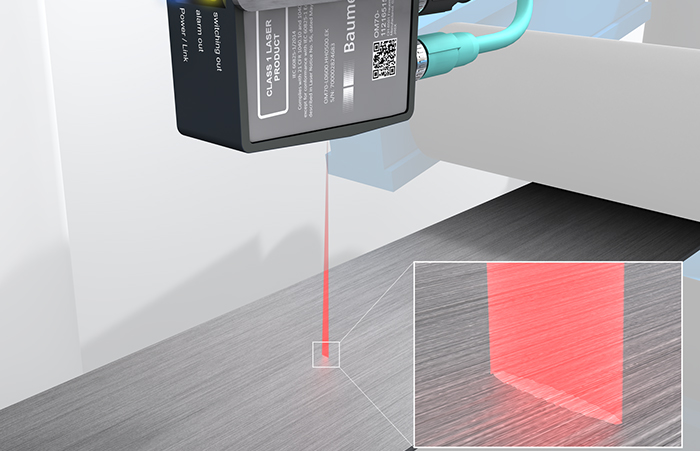 Making the right choice
In today's automated production processes, laser distance sensors provide non-contact measurements for fast and highly accurate measurement of objects for reliable inline quality control and optimum process efficiency. Examples include high-precision positioning of objects, y-axis positioning of a robot arm or measurement of thickness for double layer control. Compared to mechanical or tactile solutions, measurement is contact-free preventing both wear and tear of measuring equipment and avoiding damage to the product.
BAUMER OM70 LASER DISTANCE SENSORS
Outstanding accuracy, reliability + optimal connectivity
The latest range of OM70 laser distance sensors from BAUMER are designed to provide reliable and precise inline measurements, even on more 'challenging' and inconsistent structured surfaces and materials. They also include the very latest connectivity options for outstanding usability and fast analysis for quick and easy sensor adjustment via the intuitive Baumer web interface feature.
OM70 sensors feature one of the thinnest beam shapes compared to other types of laser sensors which is crucial in helping to ensure a more precise measuring focus. For example, most point type lasers typically only go down to 0.2mm x 0.75mm whereas the OM70 goes down to 0.05mm x 0.05mm. This optimises the sensor's receiving array enabling it to fully exploit the information content and minimises measuring impairments caused by irregularities such as machining marks, tiny scratches or dents which can impair the performance of other types of laser sensors.
The range includes options which cover a wide range of measuring and sensor applications. For example, the OM70 offers the highest precision at the closest ranges with precise inline measurement and a selectable range with a 'sweet spot' up to 250mm. This means reliable measurement regardless of the object thanks to its point and line beam shapes.
A second option is available which ensures reproducibility of long distance measurements up to 1500mm.
In addition the OM70-T provides tolerance measurement and dimensional accuracy checks, essentially an even more high performance option for the most demanding measuring applications. This is crucial in helping to improve product quality with non-contact dimensional accuracy checks and can also be quickly adjusted to the measurement task using the integrated web interface.
The precise and reliable performance characteristics apply across the OM70 range giving users the confidence of unrivalled measurement, particularly for the most challenging applications with poor ambient light, or dusty environments. OM70 sensors have high ambient light immunity up to 28kLux whereas most other options only go up to 7.5kLux. In addition an automatic light adaption function which can power itself up means the sensors can see through dark or dusty environments and receive a stable reflection back. Finally, reliable results and measurements can be achieved, even on demanding surfaces, thanks to the extra fine line beam and stable measurement signals, thanks to functions such as automatic exposure control and adjustable filters.
More at: www.baumer.com/gb/en/
Tel: +44 1793 783839
Email: sales.uk@baumer.com
Contact: Jon Sumner, Baumer Ltd. 33 / 36 Shrivenham Hundred Business Park, Majors Road, Swindon, UK, SN6 8TZ