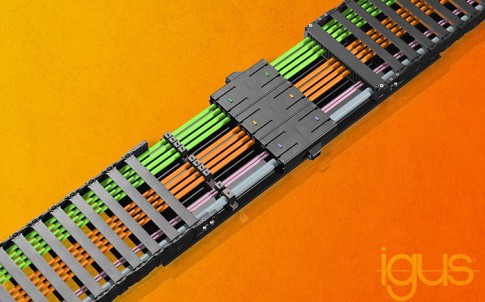 With module connect, igus has developed a novel plug-in connector for the connection of electrical cables, fibre-optic cables and pneumatics. Thanks to the modular system, an individual plug-in/separation point can be configured as a module from several plug housings. The system can be mounted on the e-chain, between different e-chains or directly on the switch cabinet and is used wherever a large number of cables are plugged into a small footprint.
Each housing can be equipped with up to four different plug inserts. The housings are then joined together, allowing almost unlimited module variations. Accessories such as mounting plates, label carriers, locking elements and various strain reliefs allow module connect to merge into a complete chain plug-in module.
"Due to the flat housing design, module connect saves space and enables a high contact density for any application," says Justin Leonard, the-chain director, igus. Each module can be adapted to the filling and geometry of the respective energy chain in one or more layers.
"With the ready chain product range, customers save time on harnessing as well as assembly, especially for long travels and heavily loaded multi-axis systems," adds Leonard. "Above all, this offers the customer cost savings in production."
All moving components were developed, tested and coordinated in the igus test laboratory. With readychain, customers receive a complete reliable pre-assembled system from a single source, delivered with a guarantee. In doing so, the number of suppliers and orders can be reduced by up to 75 percent, while storage and process costs are avoided.
To find out more information about module connect and to see how