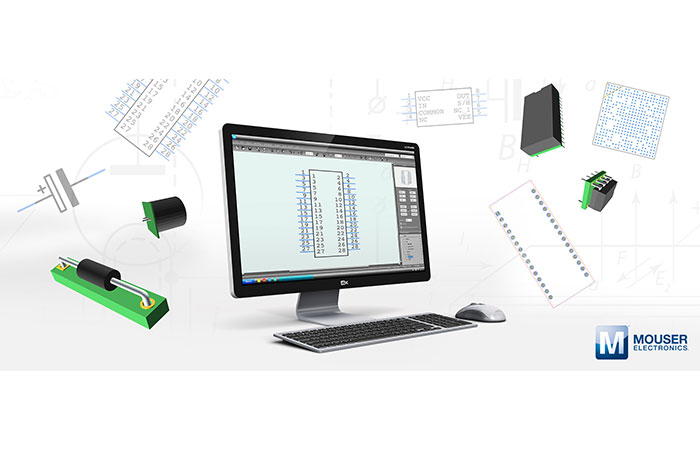 December 5, 2019 – Mouser Electronics, Inc., the New Product Introduction (NPI) leader empowering innovation, is pleased to announce new features to the ECAD resources on its millions of product detail pages on its website, Mouser.com. Together with SamacSys, a global leader in electronic component library solutions, Mouser provides customers with an array of design resources including PCB footprints, schematic symbols, and 3D models for more than 1.1 million components. These design resources, available at no charge to Mouser customers, work seamlessly with top engineering CAD systems, including Cadence and Altium.
The ECAD models are now displayed as a parameter in Mouser's search page so that engineers can see at a glance if the parts in their searches include an ECAD model availability. Additionally, engineers can click the model icon to open a preview of the ECAD model, allowing them to review the package and symbol prior to purchasing the part and downloading the model. SamacSys supports all of Mouser's new product introductions, offering engineers access to a current, high-quality library of PCB footprints, schematic symbols, and 3D models for the newest available components.
Finding PCB footprints, schematic symbols and 3D models and incorporating them can be a tedious process. Together Mouser and SamacSys ease the design phase by offering accessible, high-quality PCB library content, for every component and every engineer. The goal is to speed time to market with seamless integration into engineers' existing PCB design tools. A global leader in component library solutions, SamacSys has over 100,000 users in more than 180 countries; its customers range from individual makers to professional engineers to international brands.
Mouser's partnership with SamacSys complements the technical support, services and tools, and resources that Mouser provides for more than 630,000 customers worldwide. To learn more about the improved ECAD solution from Mouser and SamacSys, visit https://www.mouser.com/ecad.
With its broad product line and unsurpassed customer service, Mouser strives to empower innovation among design engineers and buyers by delivering advanced technologies. Mouser stocks the world's widest selection of the latest semiconductors and electronic components for the newest design projects. Mouser Electronics' website is continually updated and offers advanced search methods to help customers quickly locate inventory. Mouser.com also houses data sheets, supplier-specific reference designs, application notes, technical design information, and engineering tools.
About Mouser Electronics
Mouser Electronics, a Berkshire Hathaway company, is an award-winning, authorized semiconductor and electronic component distributor focused on rapid New Product Introductions from its manufacturing partners for electronic design engineers and buyers. The global distributor's website, Mouser.com, is available in multiple languages and currencies and features more than 5 million products from over 800 manufacturers. Mouser offers 27 support locations around the world to provide best-in-class customer service and ships globally to over 630,000 customers in 223 countries/territories from its 750,000 sq. ft. state-of-the-art facility south of Dallas, Texas. For more information, visit www.mouser.com.
Trademarks
Mouser and Mouser Electronics are registered trademarks of Mouser Electronics, Inc. All other products, logos, and company names mentioned herein may be trademarks of their respective owners.