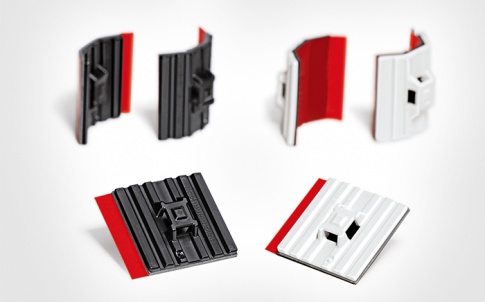 Now available in Europe through TTI, Inc., a world leading specialist distributor of electronic components, are SolidTack MB and FlexTack cable tie mounts from HellermannTyton. These self-adhesive mounting bases feature a high-performance acrylic adhesive which is specially designed to adhere strongly on high and low energy surfaces like metals, plastics, glass, painted, varnished or powder-coated objects.
SolidTack MB Series mounts are commonly used in electrical panels, telecoms cabinets and for fixing parts of wiring harnesses in railway carriages, aircraft or on vehicles where the use of screws or bolts is undesirable or impracticable.
Thanks to their flexible design, FlexTack cable tie mounts also make it easy to securely affix cable runs on curved or angled surfaces without having to apply thick layers of two-part epoxy adhesive.
Both products deliver excellent initial adhesion, which increases with time and also offers very good weathering resistance. The mounts can be used with operating temperatures up to +105°C. Application is simple and straightforward. The protection foil features a finger lift tab for easy peel off and the mounts provide 4-way entry for cable ties for quick and flexible installation.