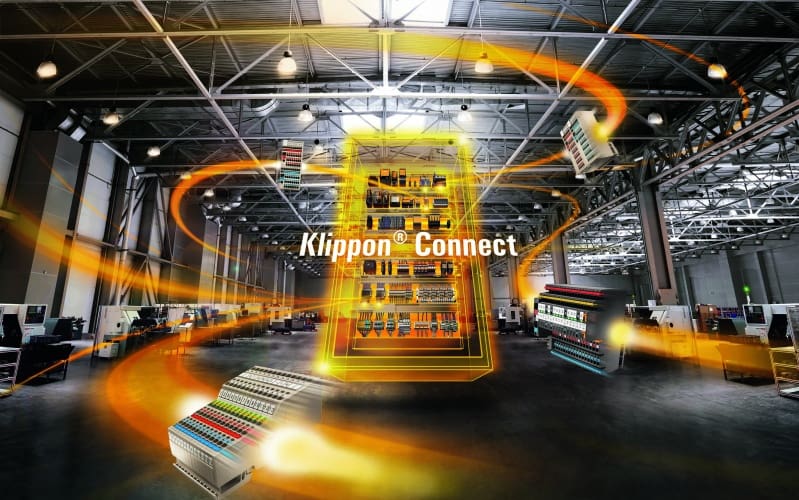 Panels with connectivity are key elements in numerous applications. They transmit signals, control data and distribute power – sometimes under the most adverse of conditions. What's more, they have to be individually designed and built to suit the requirements of the application and industry they will be used in.
The new Klippon Connect series from Weidmüller delivers connectivity for efficient planning, installation and operation. The new terminal blocks and process-supporting services are designed to generate added value at all the stages of the panel-building process – from planning, installation, through to ongoing operation.
Whether you're dealing with project planning, construction in line with planning specifications, documentation, cost calculations or the ordering process, Klippon Connect offers everything needed to make the planning process as efficient as possible – such as Weidmüller Configurator software, which provides step-by-step support with selecting and assembling terminal block strips and accessories.
The installation stage includes preparatory work, component assembly, wiring and testing. Using Push In connection technology, a high wiring density with maximum ease of use is achieved with distinctly faster installation. The leaf spring connection system incorporated in the WDU 70/95 and WDU 120/150 feed-through terminals allow users to insert conductors with large cross-sections into the opened contact point from above with very little effort. These two examples demonstrate how installation has been made as simple and as quick as possible.
The operation stage not only involves panel transport, but also panel installation, commissioning, maintenance and subsequent disposal. Professional and standard-compliant industrial marking is a fundamental prerequisite for faultless operation, efficient servicing and reliable maintenance. Weidmuller offers a complete system comprising software, markers and printers that ensure the processes carried out are both quickly and consistently.
Whether you're after simple handling, more space in the panel or time savings during installation, Klippon Connect provides a number of process benefits. The Klippon Connect terminal block portfolio comprises two ranges: an application range and a universal range.
Often, standardisation enables the right solution to be found with the function-oriented Klippon Connect universal range. It allows the user to make the most of practical product benefits, services and application-oriented advice.
The Klippon Connect application range is suitable for frequently recurring applications, such as control voltage distribution and signal wiring. If bespoke configurations are required, a customised assembly service is available at any time.
While panels are configured individually, various recurring application fields within the panel are a permanent fixture in virtually all areas of use. Weidmüller has identified and developed special solutions for these application fields, including power feed-in, power distribution, control voltage distribution, current and voltage transformer distribution, signal distribution and DCS marshalling, as well as shielding and earthing.
Terminal blocks have to be clearly arranged and easy to use, so that incorrect wiring can be prevented and reliably safe connections guaranteed. Klippon Connect gives complete freedom of choice, regardless of the system's application. Both screw connection technology and spring connection technology can be used. The screw connection features either a clamping yoke or stud connection design, while the spring connection is equipped with either Push In or tension clamp technology.
Push In connection technology delivers safe wiring, simple handling, and time spent on wiring reduced to a minimum. Both solid and stranded-wire conductors with and without wire-end ferrules and with rated cross-sections ranging from 2.5 to 16mm2 can be safely and reliably connected.
The Weidmüller Z-Series stainless steel tension clamp is a universal, screwless connection system that saves time along with a level of flexibility offered by the various cross-connections that present a reliable alternative for all connection needs. Both solid and stranded-wire conductors with and without wire-end ferrules and with rated cross-sections ranging from 0.05 to 35mm2 can be connected with this option.
The simple handling and separation of electrical and mechanical functions make the Weidmüller clamping yoke connection an ideal solution. Both solid and stranded-wire conductors with and without wire-end ferrules and with rated cross-sections ranging from 0.05 to 240mm2 can be connected without any problem.
Weidmüller stud terminals ensure a high level of safety in all energy transmission applications. Stud terminals have also proven to be an affordable and reliable connection option, particularly in harsh environmental conditions. Conductors with crimped cable lugs can be connected in rated cross-sections ranging from 10 to 300mm2.