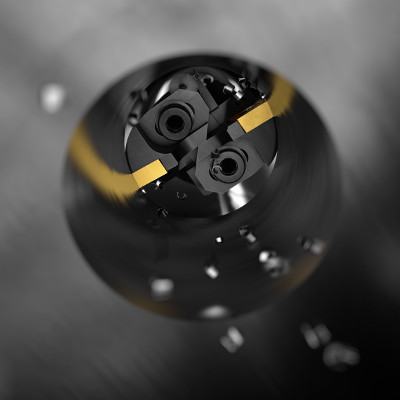 Sandvik Coromant has introduced its next generation of rough-boring tools. These new CoroBore rough-boring tools are designed to surmount the challenges typically associated with rough boring, namely vibration, chip-breaking and process security – all while delivering high-end productivity.
Designed for reliability and high process security, the combination of CoroBore together with Coromant Capto and Coromant EH modular systems enables users to be highly flexible in production. This delivers added-value through reduced tool investment and inventory. For convenience, each solution is available either separately or as part of a complete tool assembly kit.
Single-, twin- or triple-edged rough-boring tools are offered. First, the CoroBore BR20 is a twin-edge rough-boring concept that utilises a differential pitch to reduce vibration and enable use at longer overhangs and larger depths of cut. The tool also features built-in step-boring functionality without any need for an extra shim. High-precision coolant nozzles are deployed to handle coolant pressure up to 70 bar (1,015 psi) and thus aid chip evacuation.
The same tool is also available with Silent Tools technology. This damped version is a problem-solver when working with long overhangs or where additional stability is required. Silent Tools technology is proven to provide users with the opportunity to increase depth of cut, while maintaining secure machining.
For those seeking a back-boring solution, the single-edge CoroBore BR10 is the ideal option. Based on the design of the CoroBore BR20 adaptor, together with a back-boring slide and cover, it delivers secure and productive performance.
Also offered is the CoroBore BR30 three-edge rough-boring tool for superior metal-removal rates. Due to its short, rigid design and differential pitch, a low-vibration boring process is attainable. This is combined with a triple-insert design for highest productivity.
The new CoroBore rough-boring tools offer excellent performance in ISO P (steel), M (stainless steel), K (cast iron), N (non-ferrous), S (heat-resistant super alloy and titanium) and ISO H (hardened steel) materials. Supporting these high-performance tools, Sandvik Coromant has also introduced a dedicated rough-boring insert family. CoroBore 111 four-edged inserts provide optimised grade selection for rough-boring applications, while also delivering excellent chip-formation qualities and increased tool life.
In an application test, overhang could be increased by 30 per cent when using CoroBore BR20 (with its differential pitch) in comparison with the existing DuoBore tool from Sandvik Coromant. Using the same cutting data, DuoBore ceased to be effective at a length of 260mm (10.2in), while CoroBore BR20 reached 316mm (12.4in) without any compromise in surface finish. The test involved rough-boring MC: P2.1.Z.AN alloy steel workpieces on an ISO 50 taper vertical milling machine.
As a further example of the available benefits, a customer case study saw CoroBore BR20 achieve 75 per cent more tool life when rough-boring connecting rods made from MC: P2.5.Z.HT (HB280-310) on a vertical machining centre. CoroBore BR20, together with CoroBore 111 inserts, achieved good surface finish and excellent chip-breaking. Moreover, the customer was able to produce 700 components, instead of just 400, within the same time.